Greece does not want EU financial assistance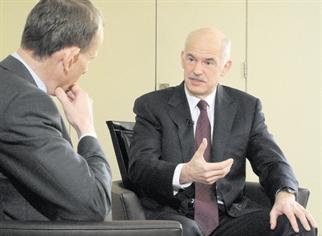 Greece's Prime Minister George Papandreou has said his country does not want financial support from the European Union.

"Give us the time, give us the support – and I'm not talking about financial, but political support – in order to show you that what we're saying is being implemented and we are credible again," Papandreou said in an interview on the BBC's Andrew Marr programme yesterday.

He said Greece's borrowing needs are covered until mid-March and Athens so far is meeting goals set out in an austerity plan.

Market concerns about Greece's debt pile have hit the euro in recent weeks.

"At this point we don't have a need for borrowing, our borrowing needs are covered until mid-March," he said in response to a question on whether there would be any new Greek bond issuance next week.

Papandreou said that despite street demonstrations against austerity measures his government has taken to tackle the debt crisis, he believed there was broad support in Greek society for painful economic reforms.

"Even though there are austerity measures and they do hurt, we have the support right now for the austerity measures which is around 50 to 60 per cent of the population, and the government also has that support," Papandreou said.

"What we're seeing here, and I haven't seen this except during the Olympic Games in 2004, is a real sense of unity by the Greek people of wanting to make a change," he said, blaming the previous administration for Greece's debt woes.

Papandreou said European Union partners should continue to offer political support to Athens as it battles to get its public finances back onto a sustainable path.

"Let us together with the EU authorities, the Commission and the European Central Bank, let's sit down, let's look at how our progress is doing, how we're doing in the stability and growth plan that we have tabled," he said.

"We're on target, beyond target on January statistics, so we're doing well. If we do need extra measures, we will take extra measures in order to reduce our deficit this year by four per cent. We're ready to do so if necessary."

Papandreou said that while Greece was not asking for financial support from EU partners, it did need strong political backing as it battled to restore its credibility with financial markets.

This was particularly important for Greece to be able to borrow at lower interest rates than it was currently facing, he said. "We need the help so that we can borrow at the same rate as other countries, not at high rates which undermine our ability to make the changes we need to make," he said.
Keep up with the latest business news from the region with the Emirates Business 24|7 daily newsletter. To subscribe to the newsletter, please click here.
Follow Emirates 24|7 on Google News.