Gulf facing human resource challenges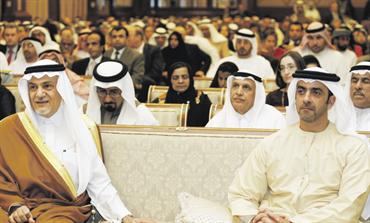 The GCC is facing a series of human resources challenges as it develops strategies for sustainable development, General Sheikh Mohammed bin Zayed Al Nahyan, Crown Prince of Abu Dhabi and Deputy Supreme Commander of the UAE Armed Forces, said yesterday.

In a message read out on his behalf to the 14th annual conference of Abu Dhabi's Emirates Centre for Strategic Studies and Research (ECSSR), Sheikh Mohammed said it was necessary to develop effective methods to deal with manpower issues as they were at the core of the development of a country's economy.

"The strategy for sustainable development in the GCC countries faces several challenges, including those that relate to human resources," he told the opening session of the three-day event, which is called Human Resources and Development in the Arabian Gulf.

"Therefore it is not surprising the countries are investing in human capital through strategic planning in the realms of educational development, scientific research, healthcare, raising the standard of living, balancing educational output with market requirements and supporting continuing education."

Sheikh Mohammed, who is Chairman of ECSSR, said the relationship between human resources and development in the Arabian Gulf was an important issue that would have international and regional consequences.

"ECSSR hopes to devise effective methods to deal with these impacts through identifying challenges facing the development of national human resources, their role in development and assessing the effect of the economic environment on sustained development in the GCC.

"It will assess the impact of security and stability on the processes of modernisation and development by identifying current sources of tension and the locations of potential conflict and cross-border crime."

The conference was inaugurated by Lt Gen Sheikh Saif bin Zayed Al Nahyan, Minister of Interior, and Prince Turki Al Faisal bin Abdul Aziz, Chairman of the King Faisal Centre for Research and Islamic Studies.

Sheikh Saif said the development of human resources was vital to a society's economic development. And he stressed that demographic balance was the key to a society's security.

"Trained, motivated, innovative and qualified human resources that introduce new systems by apprehending new technologies, setting strategies and maintaining security are key requirements for a peaceful and progressive society."

Prince Prince Turki, in his keynote speech, spoke about demographic balance and the importance of national identity in a world that was becoming a small village.

He said it was important that the region maintained its national identity and said Barak Obama's election as the first black US president was the result of a new concept of citizenship.

Dr Abdul Wahid Khalid Al Humaid, Saudi Arabia's Deputy Labour Minister, spoke of the critical challenges the region faced because of its dependence on an expatriate workforce. "The population of the region has increased drastically… because of increasing number of expatriate workers."
Follow Emirates 24|7 on Google News.