Gulf jobs should go to Arabs: Saudi prince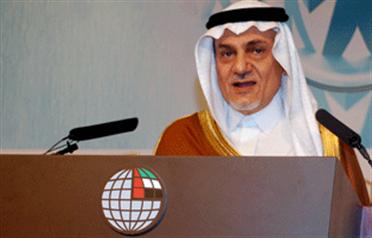 Gulf Arab states, where foreigners make up half the workforce, should give employment preference to their citizens over expatriate labour, a prominent member of the Saudi royal family said on Monday.
"We should review our economic policies in a serious manner to build national economies that benefit their people and not the millions of foreign workers," Prince Turki al-Faisal bin Abdulaziz said at a conference on human resources in Abu Dhabi.
"It's not understandable that there be one unemployed Gulf national in countries that receive millions of foreign workers," he said.
Prince Turki is chairman of the King Faisal Centre for Research and Islamic Studies. He is a former ambassador to Washington and London and before that spent more than 25 years as the head of Saudi Arabia's intelligence service.
Two Emirati sheikhs also voiced their concerns over employment issues at the conference.
General Sheikh Mohammed bin Zayed Al Nahyan, Crown Prince of Abu Dhabi and Deputy Supreme Commander of the UAE Armed Forces, said the GCC faced "a series of human resources challenges as it developed strategies for sustainable development".
Sheikh Mohammed, who also chairs Abu Dhabi's Emirates Centre for Strategic Studies and Research, said the relationship between human resources and development in the Arabian Gulf was "an important issue that would have international and regional consequences".
Lt. Gen Sheikh Saif bin Zayad Al Nahyan, Minister of Interior stressed that "demographic balance" was the key to a society's security.
The six countries of the Gulf Cooperation Council (GCC) have witnessed six-years of growth fuelled by a surge in the price of oil -- triggering a construction and services industries boom that required millions of foreign workers.
The GCC comprises Bahrain, Kuwait, Oman, Qatar, Saudi Arabia and the UAE.
Foreign unskilled workers, mainly from southeast Asia, and skilled labour make up an average of 50 percent of the workforce in the Gulf Arab region, reaching as high as 92 percent in the United Arab Emirates and Qatar and 60 percent in Saudi Arabia, according to Baqer al-Najjar, professor of sociology at the University of Bahrain.
Prince Turki warned that the current policy of bringing in foreign labour threatened the demographic make-up of the region.
"If these policies continue, we will no doubt become minorities in our countries," he said.
"We, especially in Gulf Arab countries, are in one of the most dangerous regions. We suffer and will suffer from security, economic, social, cultural, and demographic problems if we do not tackle the situation," he said.
He did not specify what policies the governments should carry out.
The Arab world's two biggest economies -- Saudi Arabia and the United Arab Emirates -- along with the remaining Gulf countries have suffered from the global economic downturn as oil prices have lost more than $100 since reaching an all-time peak of $147 in July, 2008.
Many real estate projects have been put on hold or cancelled altogether, forcing many expatriates workers to leave the region after losing their jobs.
Follow Emirates 24|7 on Google News.