Healthy employee-manager relationship remains crucial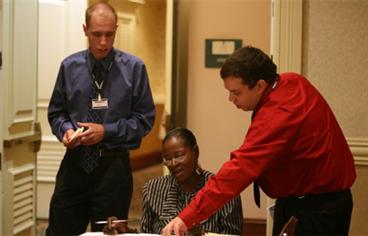 A healthy manager-employee relationship is seen as essential by the majority of professionals in the region, according to a new poll.

The study by jobs website Bayt.com found that 72 per cent of the Middle East professionals who were questioned considered a good relationship with their direct manager to be very important in the workplace. Fourteen per cent considered it important to a certain extent while 10 per cent believed it depended on the nature of the position.

The online poll was conducted to assess the significance of employee-manager relationships in the Middle East and the level of satisfaction with managers in the region. In addition it examined the effects of an unhealthy working relationship between employees and managers and explored what could be done to improve such a situation.

"This report has given an interesting insight into professionals' experiences and attitudes in the Middle East with regard to employee-manager relationships," said Amer Zureikat, Regional Manager of Bayt.com.

"The fact that the vast majority consider a healthy working relationship with their boss to be vital illustrates the importance of this poll."

The report – entitled Manager-Employee Relationship in the Middle East Workplace – says 27 per cent of professionals rate their relationship with their direct boss as excellent, citing their manager as not only a boss but a mentor.

And 31 per cent consider their relationship to be quite good, with mutual respect and a smooth communication channel between the two parties.

However, 24 per cent of those questioned said their relationship with their manager was not stable and usually depended on the boss's mood, while an astonishing 17 per cent revealed that the relationship was bad and they were not on the same wavelength as their boss at all.

"While many respondents were happy with their managers, a good number of working professionals in the Middle East seemed dissatisfied with their relationship with their boss," said Zureikat. "This indicates that there is some headway to be made in improving employee-manager relationships in the region."

Respondents were asked what they thought the effects of an unhealthy manager-employee relationship would be. Seventeen per cent said low employee motivation could be a knock-on effect, 13 per cent cited a stressful work environment for both manager and employee, 12 per cent thought it could lead to unfinished job tasks and 54 per cent mentioned all of these as possible outcomes.

Almost a quarter of respondents – 24 per cent – said effective communication was key, 23 per cent said good leadership skills was key, 22 per cent thought mutual respect was important, 10 per cent cited trust in employees and 14 per cent mentioned leading by example as a good management quality.

"Many employees value managers with good communication and leadership skills. This gives some indication as to how best to improve relationships in the workplace," said Zureikat.
Keep up with the latest business news from the region with the Emirates Business 24|7 daily newsletter. To subscribe to the newsletter, please click here.
Follow Emirates 24|7 on Google News.