Hot money not behind FX reserve leap: China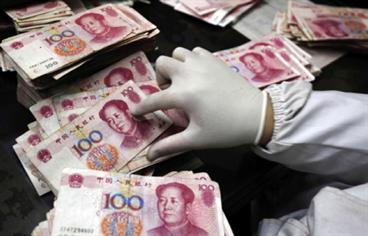 A $453 billion (Dh1.66 trillion) increase last year in China's foreign exchange reserves partly reflected currency valuation effects and was not solely due to inflows of speculative funds, China's currency regulator said yesterday.

In a statement on its website, the State Administration of Foreign Exchange (Safe) refuted media reports that the difference between the proceeds of China's trade surplus and foreign direct investment, on the one hand, and the total increase in reserves, on the other hand, was due to hot money.

Safe said it has sufficient information to explain the gap last year of $167bn.

"It is absolutely not right to do simple subtractions and declare that the gap is unexplainable, or even label it as hot money," the agency said.

But it acknowledged that speculative money was entering China in the form of disguised trade and investment. In addition, low dollar interest rates were sucking money into China.

For these reasons, China needed to retain controls on capital flows, Safe said, even though it reaffirmed the longstanding policy to push forward convertibility of the yuan and to give individuals and institutions more opportunities to invest abroad. It did not provide any information regarding the currency composition of China's $2.4trn in FX reserves, the world's largest stockpile.

Analysts said about two-thirds of the reserves are in US dollars. "We can't release details of investment returns and currency changes, but we can use some relevant figures as references," Safe said.

It cited the 8.5 per cent fall in the dollar index in 2009 and International Monetary Fund data that non-dollar assets accounted for nearly 40 per cent of global forex reserves.

"The appreciation of non-dollar currencies against the dollar in 2009 has definitely led to growth in outstanding foreign exchange reserves calculated in dollars," the agency said.

Investment returns also boosted China's reserves, it said. By way of example, it cited the annual average return of 4.8 per cent in the Barclays Global Investors Bond Index from 2005 to 2009.
Keep up with the latest business news from the region with the Emirates Business 24|7 daily newsletter. To subscribe to the newsletter, please click here.
Follow Emirates 24|7 on Google News.