Hu's Saudi visit to cement strategic oil ties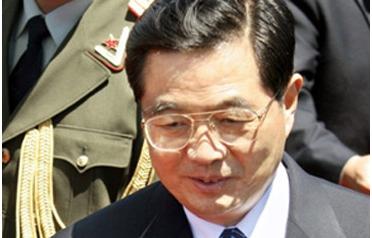 Sliding oil prices and the international financial crisis have taken the focus off world crude supplies since Hu's last visit to the desert kingdom three years ago.
But China's relationship with its top supplier of oil has been little changed by the upheaval.
Producer nation power is waning, but Riyadh and Beijing are focused on long-term deals to match huge Saudi reserves to thirsty Chinese markets.
"Both of those two players had fairly extreme positions of strength, but I think despite changes in the markets their relative strength hasn't changed much," said Jeff Brown, chief economist at the Facts Global Energy Group.
"Now the Saudis are looking to cut back production, so for the next couple of years they may place less emphasis on pushing into other markets. Also the Chinese demand is not necessarily growing like it was before."
Saudi Arabian shipments of crude to China rose nearly 40 per cent last year, and made up a full fifth of the foreign oil burnt by the world's number two consumer.
Steady imports by China have partly compensated for lower supply by Saudi Arabia to oil majors and the United States, where record prices over the summer, an economic slowdown and the global financial crisis have taken a toll on oil demand.
This year industry sources say they could still climb at double digit rates, based on healthy economic growth and the start-up of an expanded refinery in which Saudi Aramco has a 25 per cent stake.
The plant in coastal Fujian province is a joint venture with Sinopec and Exxon Mobil, and is expected to come online with full 240,000 barrels per day capacity in the first half of this year, delayed from earlier plans.
DEMAND GROWTH SLOWS
China has made up about one-third of the world's incremental oil demand since 2003, although expansion is braking quickly as a global recession saps demand from the buyers of China's goods.
Apparent oil demand fell for a second month in December as refiners cut production by the steepest rate in seven and a half years on weaker consumption.
That could mean the nearly one million barrels per day of new refining capacity due online in China next year struggles to find a market, denting appetite for Saudi crude.
But Riyadh, in talks for a stake in another Chinese refinery, appears happy to bet on the rising giant's long-term appetite.
And China's troubled relationship with other suppliers means the ties are likely to strengthen. It is still haggling with Russia over oil and gas prices, and its ventures into Africa have been weighed down by problems ranging from Western activism to spiralling prices demanded by some African suppliers.
"Regardless of changes in world market prices, China needs to be able to rely on large suppliers. Over the years, Saudi Arabia turned out to be one of the easier suppliers to deal with," said Zha Daojiong, energy expert and professor at Peking University's School of International Studies.
"China tried an 'investment for oil' approach with some African suppliers, but increasingly African governments are asking for higher prices. Russia has missed its declared deadlines of increasing supplies to China."
After Saudi Arabia, Hu goes to Africa. 
Follow Emirates 24|7 on Google News.
Chinese President Hu Jintao kicks off his first global tour of 2009 in Saudi Arabia on Tuesday, underlining the strategic importance to import-dependent Beijing of long-term ties with the world's top energy exporter.