India's mini-budget may shield economy from crisis, say analysts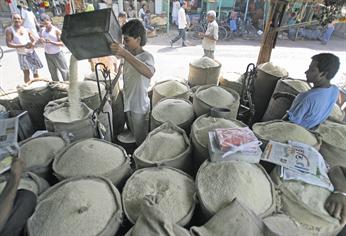 India's ruling Congress party will present today a pre-election mini-budget that will seek to shield the economy from the global slump and provide relief for the poor, analysts say.

The interim budget, which will form the economic bedrock of the party's campaign for general elections that must be held by mid-May, will aim to be a please-all document with a populist streak, economists say.

"Their aim is to get re-elected," said Deepak Lalwani, India Director of London-based brokerage Astaire and Partners.

The Congress-led government owed its unexpected election win in 2004 to India's impoverished masses who turfed out the Hindu nationalist Bharatiya Janata Party after they felt bypassed by an economic boom.

"There's a need to sustain our foreign trade, revive foreign investment and generate domestic demand in order to maintain our growth rates," said acting finance minister Pranab Mukherjee, spelling out the government's goals.

Such steps "are essential to lift up the multitudes from below the poverty line", said Mukherjee, just days before the budget.

Mukherjee has stepped into the finance job in the place of Premier Manmohan Singh who holds the portfolio and is recovering from heart surgery.

The government forecast the economy will grow by 7.1 per cent this fiscal year ending March 31, 2009, after expanding by nine per cent or more for the last three years.

But most economists are looking at the economy slowing to around 5.5 per cent next year, still extremely strong by Western standards but not enough to lift millions from severe poverty.

Mukherjee will outline the spending plans for the 2009-10 financial year in the interim budget. But the measures can only be put into effect by the party which wins the elections.

Economists believe the budget will herald a further deterioration of India's fiscal deficit – already one of the world's worst.

This year's deficit is expected to be up to 7.5 per cent of gross domestic product – triple a planned target of 2.5 per cent.

"They have had to throw the federal deficit out the window. They have to sacrifice it to stimulate growth at a time of such dire economic crisis worldwide," said Astaire and Partners' Lalwani.

And slowing growth is lowering tax revenues that will only fall more steeply as the economy loses steam.

The government, which has already announced two stimulus packages since the global crisis started washing up on Indian shores, is expected to swell the deficit further by announcing more relief schemes for manufacturing, construction, infrastructure and exports as well as buttress social programmes.

Half a million workers were thrown out of work in the three months to December and an export lobby group forecasts the number will hit at least 1.5 million by the end of this fiscal year.

Industrial production shrank by two per cent in December from a year earlier as companies slashed production amid fears of inventory build-ups.

"The global scenario is turning gloomier by the day and export-oriented sectors [such as textiles and jewellery] are feeling the heat," said Dharma Kriti Joshi, principal economist at Crisil credit rating agency. The interim budget is expected to be swiftly followed by more cuts in central bank interest rates to spur spending in the ailing housing, automobile and other sectors.

"The good news is India continues to comfortably outperform most of its Asian neighbours except for China," said HSBC economist Robert Prior-Wandesforde.

"But the period of double-digit growth and talk that the country had finally embarked on a strong, sustained period of industrial expansion is now a distant memory."
Follow Emirates 24|7 on Google News.