Indian firms set to report rising profits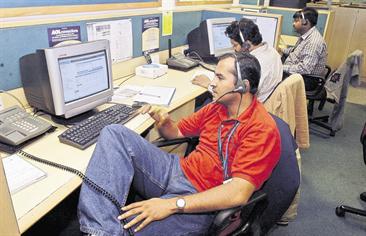 Indian firms are expected to announce a sharp rise in profits when the quarterly reporting season kicks off this week, aided by improving business and a low base from the depths of the financial crisis.

The 30 companies that make up Mumbai's benchmark Sensex index are forecast to announce a year-on-year increase in net profit of between 15 and 20 per cent for the quarter ending December, analysts said.

"We have definitely turned the corner. Earnings will be robust, aided by the low base effect of the December 2008 quarter," said Hitesh Agrawal, head of research at Mumbai's Angel Broking.

India's economy grew by a faster-than-expected 7.9 per cent in the three months to September, picking up pace from the previous quarter when it expanded by 6.1 per cent.

"Demand across sectors is picking up and business confidence is high. The economy has been boosted by foreign capital inflows and government stimulus packages," said Jigar Shah, Senior Vice- President of Kim Eng Securities India.

Infosys Technologies, the pioneer of India's flagship software sector, announces its profits on Tuesday, the first index heavyweight to report earnings. TCS, the largest software exporter, announces its earnings on January 15 and rival Bangalore-based Wipro on January 20.

India's largest oil exploration firm Oil and Natural Gas Corp takes its turn on January 21 and the country's largest passenger carmaker Maruti Suzuki India will be centre stage on January 23.

The improved business sentiment in India is reflected in the Mumbai stock exchange which vaulted by 80 per cent over 2009 – its biggest annual gain in 18 years – after it had declined 52 per cent in full-year 2008.

Such has been the force of the revival that India's government and central bank now face a tricky balancing act in fighting inflation and keeping economic recovery on track.

Analysts say that any monetary policy action in coming months is likely to be mild to avoid snuffing out the recovery.

"The RBI [India's central bank] could make a 'calibrated exit' from the current overtly accommodative monetary policy," Edelweiss Securities analyst Siddharth Sanyal said in a latest report to clients.

A hike in rates or the cash reserve ratio – the amount which commercial banks have to keep aside as deposit – would take place during the first quarter of calendar year 2010, the Edelweiss report said.

Finance Minister Pranab Mukherjee in December said he expected India to grow between 7.5 and 8.0 per cent for the year to March 2010.

Shah and Agrawal said the recovery would mean Indian companies had to cope with rising input costs from metals, commodities, fuel prices and financing – if the expected tightening of monetary policy materialises.

"Companies have to get proactive as input costs will start to rise," Agrawal said, forecasting Sensex companies to show a 20 per cent profit growth in the three months to December.

India was better insulated from the direct impact of the global turmoil that hit growth in 2008 and early 2009 due to its strong local demand base.Sectors such as automobiles, steel, cement and infrastructure could report the strongest results thanks to robust domestic demand, analysts say.

The auto sector has been one of the most robust, showing record sales and export growth last year.

Japanese-controlled Maruti Suzuki India, South Korea's Hyundai Motor and India's Tata Motors have all announced higher sales of cars and sports utility vehicles last year.
Keep up with the latest business news from the region with the Emirates Business 24|7 daily newsletter. To subscribe to the newsletter, please click here.
Follow Emirates 24|7 on Google News.