Iran sees lower inflation, seeks price reduction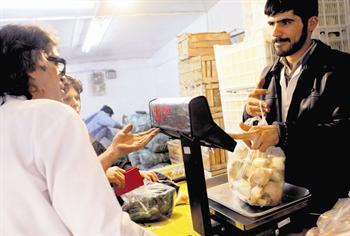 Iran's annual inflation rate is expected to fall to 22-23 per cent by the end of March compared to a peak of nearly 30 per cent in 2008, Central Bank officials said.

Commerce Minister Massoud Mirkazemi separately told producers and importers of goods they would be fined and could also lose their licences if they did not lower their prices in proportion to international declines, official media reported.

Falling inflation would be welcome news for President Mahmoud Ahmadinejad, who is widely expected to run for a second four-year term in a June election, even though it remains well above the rate of around 12 per cent when he took office in 2005.

"The inflation rate at the end of the year will definitely be lower than the current inflation rate," Central Bank Governor Mahmoud Bahmani told Mehr News Agency, referring to the Iranian year ending on March 20.

The central bank said in mid-January year-on-year inflation declined to 26.4 per cent in December from 28.3 per cent the previous month and 29.5 per cent in October.

Bahmani made clear he expected the downward trend to continue. "In regards to plans aimed at increasing production and supply of products in proportion to demand, the central bank thinks we would bring the inflation rate back to 22 or 23 per cent by the end of the year," he told Mehr.

But he also stressed the need to control liquidity.

The Isna news agency quoted another central bank official, Ramin Pashaifam, as making a similar forecast.

The economy is expected to be a key battleground in campaigning for the 2009 presidential election in the world's fourth-largest crude producer, which is facing a sharp fall in revenue after oil prices plunged by 70 per cent since July.

Reformist critics have accused Ahmadinejad's conservative government of stoking price rises by heavy spending of petrodollars when crude prices were soaring, making it more difficult to cope when they started tumbling six months ago.

Analysts say the US and UN sanctions are pushing up the cost of doing business and deterring investors.

But some economists had predicted the inflation rate would come down, pointing to the global economic downturn as well as monetary tightening initiated by former central bank governor Tahmasb Mazaheri, who was replaced by Bahmani last year.

Mirkazemi, the commerce minister, has issued a directive about the necessity of companies lowering prices "in the domestic market in proportion with the global decline", media reported.

"Producers and importers are obliged to cut the price of products. We will confront the violators," Mirkazemi told state broadcaster IRIB, according to its website.

"Violators including representatives of foreign companies in the country and also domestic producers will be given fines," he said. "If they do not lower prices and if they continue with the violation their licence will be cancelled."
Follow Emirates 24|7 on Google News.