Japan's PM set to announce huge aid package: reports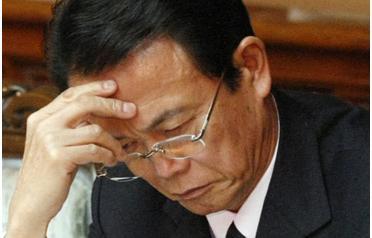 The three-year package from April 2009, worth 1.5 trillion yen ($16.5 billion; Dh61 billion), would be aimed at boosting the Asian economy through development programmes, including infrastructure projects, Jiji Press and other local media reported, without citing sources.
Japan's official development aid, an important diplomatic tool for the pacifist country since the end of World War II, has historically focused on Southeast Asian countries.
Aso will also highlight Japan's own efforts to increase domestic demand with stimulus packages worth a total of 75 trillion yen, calling for other nations to adopt similar economic policies, reports said.
Separately, Trade Minister Toshihiro Nikai and Farm Minister Shigeru Ishiba will propose a plan to cut or lift tariffs on environmentally friendly products at an informal meeting of the World Trade Organisation to be held on the sidelines of the Davos meeting, the business daily Nikkei reported.
The proposal is aimed at promoting trade in goods such as lithium-ion batteries and solar power generation systems, which could help address global warming and are areas that Japanese companies have strength in, it said.
Aso left on Friday on a lightning visit to the Davos gathering, where he is expected to seek a leadership role for the Asian power in fighting the global slowdown.
He is also expected to highlight Japan's proposal to lend up to $100 billion (Dh368 billion) to the International Monetary Fund to help emerging countries hit by the economic crisis, officials have said.
Aso, embroiled in a stormy session of the politically divided parliament, will spend only a matter of hours in the Swiss mountain resort and return to Tokyo by late Sunday.
Opposition leader Ichiro Ozawa said on Saturday he expects general elections to be held in April, renewing his pledge to take office.
"We are preparing for the general election as we believe it will be held in April," he told a conference in Tokyo.
Despite a fresh round of dire economic news from Japan, Aso has argued that the world's second largest economy is in a strong position to use its resources to jump-start growth.
Follow Emirates 24|7 on Google News.
Japanese Prime Minister Taro Aso will announce a multi-billion-dollar aid package for Asian countries in a speech on Saturday at the World Economic Forum in Davos, reports said.