Kuwaiti MP files to quiz premier over finances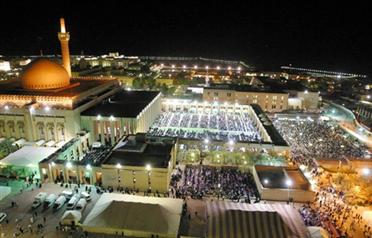 Islamist opposition MP Faisal al-Muslim on Sunday filed to quiz the Kuwaiti prime minister in parliament over charges of misuse of public funds, setting the stage for a fresh political crisis.
The deputy alleges that the office of Prime Minister Sheikh Nasser Mohammad al-Ahmad al-Sabah misappropriated the equivalent of tens of millions of dollars in the run-up to last year's general election.
"The error is very grave and cannot be overlooked. It is related to the top executive official in the country and also to public funds," Muslim told reporters after filing the request to question the premier. "The government attempted to block the outcome of a (previous) probe into the premier's finances... and accordingly, I had no option but to question the prime minister," the lawmaker said.
Last June, parliament voted to ask the independent Audit Bureau to investigate allegations of "suspicious" spending of 23 million dinars by the premier's office in 2007 and 2008.
The Bureau uncovered some irregularities in spending procedures, including violations of financial and accounting rules, but could not explicitly say whether there had been any wrongdoing.
Last month the cabinet decided to refer the Audit Bureau report to the public prosecution service, and is still awaiting the response. The debate in parliament is expected to take place after two weeks.
Two requests to question the prime minister were filed in the past, and both led to political crises in the oil-rich Gulf emirate. The first in May 2006 led to the dissolution of parliament and fresh elections, while the second was submitted last November and caused the cabinet to resign.
Sheikh Nasser, a nephew of the emir, became premier for the first time in February 2006, and has been under constant political pressure ever since. The most recent of his five cabinets was appointed in January.
Follow Emirates 24|7 on Google News.