Lacking fuel, Tajikistan slides into darkness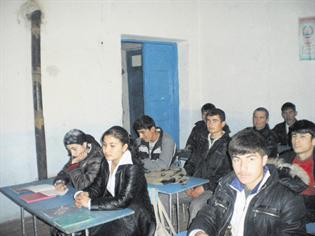 Twice a day, the students in this village school just outside the Tajik capital rush out of their classrooms bundled in layors of heavy winter clothing.

They are not running outside to play in the snow – they are jockeying for position to warm their hands around the school's only heater, which now comes on just twice a day.

"Studies are not cancelled, kids are coming early, however not all of them are prepared for the lessons," said teacher Daler Yukavov.

"The kids complain that they couldn't do their home work because of the lack of electricity."

The poorest of all the ex-Soviet Central Asian states with a population of 7.5 million, Tajikistan is in the midst of a massive energy crisis that has caused chronic shortages even in the capital Dushanbe.

The collapse of Soviet-era infrastructure, a dispute with neighbouring Uzbekistan and lack of investment in the energy sector after independence have paralysed the country's electricity grid.

The shortages are just one of the problems facing the country high in the Pamir mountains, the only Persian-speaking state in the otherwise Turkic ex-Soviet republics of Central Asia. Its debt-ridden economy is massively dependent on remittances sent by Tajik workers abroad, which according to the International Monetary Fund account for 45 per cent of GDP.

Earlier this month think-tank International Crisis Group issued a report warning that Tajikistan, which shares a large and porous border with war-torn Afghanistan, was in danger of becoming a "failed state".

"How do we live? Well, probably like everyone else it could be better and it could be worse," said Gulshan Nuraliyeva, 38, a nurse and mother of four who lives in a single room that functions as the family home.

"We can run this little generator more frequently now – for an hour and a half a night – because the global financial crisis has made petrol a tiny bit cheaper in our country," she said.

A move earlier this month by Tashkent to halve gas deliveries forced Dushanbe to implement an even more stringent energy rationing scheme, plunging much of the country into darkness for all but two hours a day.

Even in some areas in and around the capital Dushanbe, electricity is only available for two hours a day or less, and gas only to those lucky enough to afford it.

In Turdibobo, a Dushanbe suburb of squat buildings and unpaved mud roads, the cuts have led residents to start stockpiling supplies, although the government says the crisis is only temporary.

Tajikistan has for long planned to develop the hydropower potential of its mountain rivers eventually becoming a net exporter of power to surrounding states including Afghanistan.

"In just the course of this year the government has plans to build 50 mini-stations on rivers in order to ensure electricity to remote mountain regions," a spokesman for the country's energy ministry said.

But Tajikistan depends on Uzbekistan – the main supplier of natural gas to countries in the region – for 95 per cent of its natural gas.

The two countries have long been at loggerheads over a number of issues, including water and energy supplies in addition to long-standing cultural strains.

No issue is more controversial than Tajikistan's massive Rogun hydro-electric station, begun under the Soviets in 1976, which Uzbekistan fears would cut off water to its lucrative cotton fields. Tajikistan in 2007 scrapped a deal with Russian aluminum giant Rusal to finish the project, citing logistical disputes. Moscow has put its weight behind Uzbekistan in the dispute, leading Dushanbe to search for funding overseas.

President Emomali Rakhmon this week visited Moscow for talks with President Dmitry Medvedev in which the two were pictured fishing in a well choreographed bid to show friendly bilateral ties.

But Rakhmon – who has dropped the Russian 'ov' from the end of his name – may be counting on renewed US interest in the region to strengthen his hand with Moscow.
Follow Emirates 24|7 on Google News.