Leadership development key to drive growth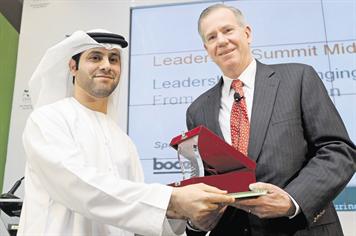 The Government of Abu Dhabi has a leadership development strategy based on three key dimensions that include the emirate's resources and their impact on the environment, economic growth and challenges, and global changing roles of capitalisation, a senior official told a conference in the capital yesterday.

Addressing the first Insead (The Business School for the World) Leadership Summit Middle East, Dr Ahmed Al Mazrouei, Deputy Secretary- General at Abu Dhabi Executive Council and Chairman of Health Authority Abu Dhabi (Haad), said leadership quality was the leading priority in the emirate's economic growth drive.

"We believe in leadership development and stress on this as a government in our drive for economic growth. This involves three key dimensions – the stress on our resources, demand and supply and growth, and global changing roles of capitalisation. Economic ramification, liberalisation and innovation are the also the key ingredients to these dimensions of leadership development," said Al Mazrouei.

He said Abu Dhabi Government draws all its policies taking into consideration the global challenges and changes. Al Mazrouei said most of the government plans are strategic and long-term. He said from basic amenities to infrastructure developments are being carried out strategically. For instance, he said, "almost more than 90 per cent of the emirate's population now has health insurance".

On energy, Al Mazrouei said the government is developing a number of programmes, including new initiatives of renewable and clean energy sources, to meet all the future energy demands.

Claude Janassen, one of the three founders and Honorary Chairman of Insead, which has its third campus in UAE (Abu Dhabi) after France and Singapore, shed light on the history of the institute and its contribution to the global economic growth. He told the conference Insead was one of the three largest and top schools of business producing the largest numbers of business executives.

Abu Dhabi Insead Dean Frank Brown elaborating the summit in Abu Dhabi said it was in it fourth year and first time in the Middle East. Brown said: "The eyes of the global business community are moving from West to East and, being the Business School for the World, it was right that we focused our attentions on this fast-emerging regional player.
Keep up with the latest business news from the region with the Emirates Business 24|7 daily newsletter. To subscribe to the newsletter, please click here.
Follow Emirates 24|7 on Google News.