Lloyds reports £8.5bn yearly loss in HBOS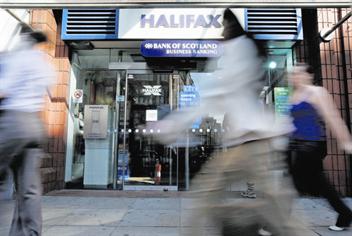 Partly-nationalised Lloyds Banking Group said its HBOS unit made a hefty loss last year due to a bigger-than-expected rise in bad loans, wiping a third off its value and raising fears more state help will be needed.

HBOS had a pretax loss of £8.5 billion ($12.3bn, Dh45.1bn) for 2008, Lloyds said in a statement, driven by £7bn in bad corporate loans and a £4bn in asset write-downs.

In December, HBOS had estimated its corporate bad loans for the 11 months to November 30 at just £3.3bn.

"Obviously, we need to digest the detail, but it looks increasingly as if Lloyds HBOS will now go into majority public ownership, followed inevitably by nationalisation," said Vince Cable, finance spokesman for the opposition Liberal Democrats.

HBOS, seen as vulnerable to the global credit crisis because it depended on wholesale borrowing for much of its funding, agreed to be bought by Lloyds TSB in September last year.

The government-brokered deal was made possible by a one-off waiver of British competition rules.

The government owns a 43 per cent stake, after supplying £17bn to the enlarged group.

"The problem we had last October is that we had a banking system that was about to collapse. We had to intervene, we had to do it very quickly," Finance Minister Alistair Darling told BBC television when asked about Lloyds.

"Now what we have asked the new management to do is to go through the books so that we can deal with the assets that have gone bad and the other problems that have emerged," he said.

Lloyds said the big rise in bad loans and write-downs was driven by falling asset values as credit markets continued to deteriorate.

"The market does not like the fact that in a period of a month, the corporate losses (at HBOS) are twice what they had announced," said Mamoun Tazi, analyst at MF Global. It said the increase also reflected the application of Lloyds' own more conservative accounting methods at HBOS since the two banks completed their tie-up in January.

Analysts expect UK banks to suffer a sharp rise in bad debts this year as a recession that began in 2008 gathers pace. The British economy contracted by 1.5 per cent in the final quarter of 2008, official figures showed last month, and surveys have shown a steep falling-off of business activity.

"Cleary, there was a big deterioration at the end of last year. If you extrapolate that run rate, then this is a business that is owned by the taxpayer in about 18 months," said Fox-Pitt, Kelton analyst Leigh Goodwin.

Speaking to British legislators, Lloyds Chief Executive Eric Daniels warned earlier this week that the next year or two "will be incredibly tough for our shareholders as well as our customers" but said he had found no nasty shocks since acquiring HBOS.

Lloyds said its Lloyds TSB unit made a profit of about £1.3bn, including write-downs of £1.3bn.

The company also said in a statement that the combined group had a core tier 1 capital ratio – a key measure of capital strength – of between six per cent and 6.5 per cent, "significantly ahead" of the regulatory minimum.
Follow Emirates 24|7 on Google News.