Middle East centre stage at Davos forum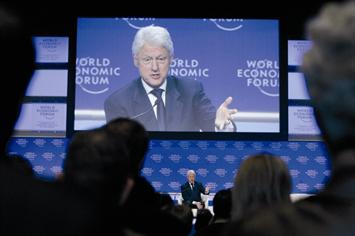 As stability in the Middle East took centre stage at the World Economic Forum in Davos yesterday, the global elite threw the spotlight on the region's oil and gold commodity markets.

Opec's Secretary-General Abdalla Salem El Badri said its members needed an oil price above $50 a barrel to make exports worthwhile, and added more production cuts were possible later this year.

Even $50 did not guarantee a "decent income for our countries," he said, adding "I hope that the price will pick up… a $50 price will not permit us to invest."

Speaking later at the meeting, Peter Munk, Chairman of Barrick Gold Corporation, said gold prices were likely to hit new record highs in dollar terms, "as there is serious concern about the US currency".

He said there was even a possibility, although not a likelihood, that central banks including China's might start to switch from dollar holdings to gold, which could cause the metal's price to triple.

"Gold is at record levels in every currency except dollars. Even within dollar terms it is within a few percentage points of an all-time high at a time when all the other major commodities are falling," said Munk.

"Whether it's the currency effect or a reaction to a feeling of uncertainty, gold in my opinion is more likely to go up than down," said the chairman and founder of the world's largest gold mining company.

Spot gold was at $878.50/880.50 at 1.13pm GMT. Its current record high is $1,030 an ounce, achieved in March last year.

Opec's El Badri confirmed all production cuts announced by the group in 2008 would be implemented and that more could come this year. "For the information I am seeing at this time, it would be about 100 per cent," he said of the cuts during a debate in Davos.

"We will take out 4.2 million barrels per day.

"If we still have some downward problems [of prices], Opec will not hesitate to take some quantity out of the market. We cannot tell at this time before our next meeting on March 15," he said.

Meanwhile, National Bank of Kuwait Chief Executive Ibrahim Dabdoub said interest rate cuts and liquidity injections were not enough to ease the financial crisis, but fiscal stimulus and the Kuwaiti government's support of the local stock market would help.

"Rate cuts and liquidity are there, it's helping but it's not enough," Dabdoub said.

"We need the government to spend more on postponed expenditures, like projects and capital expenditures. Maybe the government should interfere in the stock market," he said, adding investment of up to $21 billion could help the market.

Dubai-based senior economist Armen Papazian, however, said any move by the Kuwait Government to inject funds into its stock market would be detrimental.

"I don't agree with funds to prop up stock markets. It should not become a habit and is not the way forward. The [Kuwaiti] government should inject new money by expenditure in the real economy," he told Emirates Business.

Of the possibility of more cuts by Opec this year, Papazian said he understood the group's need to cut supply to keep prices up, but it would still not change declining demand for oil.

"Most countries are now in recession and as a result consumer expenditure will drop as will their need for oil. Opec's countries need to work towards being less dependent on oil revenues," he said.

GCC countries should move towards issuing local bonds and financing local expenditure through the trade of these bonds, Papazian said.

"They should move away from the dollar standard and set up floating exchange rate markets instead of their dollar standards and pegs," he said.

Meanwhile, India's Commerce and Industry Minister Kamal Nath said the country had noticed growing signs of protectionism and would respond by taking measures of its own if its exporters were threatened.

His comments at the forum in the Swiss ski resort were the latest warning that the global economic crisis could fuel protectionism to protect national industries and jobs.

"In some places there are sounds of protectionism, in some places it is real," Nath said. "We are seeing greater use in the western world of anti-dumping measures, non-tariff barriers being used in Europe."

However, local analysts felt the comments were premature as there were no visible signs of new tariffs or quotas.

"Protectionism is definitely not the solution and countries are aware of this. Regardless, export driven economies will suffer because global spending will drop in this recession," said Papazian.

At the increasingly gloomy forum where world leaders said they were preparing for the worst, came a lighter moment when former US president Bill Clinton took on Russian Prime Minister Vladimir Putin's earlier warning that too much government involvement in the economy could be "dangerous". Clinton told an audience at the forum yesterday that "this is the first I've heard of Prime Minister Putin coming out for free enterprise".

On calls for the removal of the dollar as a reserve currency, UAE's currency experts said that any move to this effect would further destabilise already weakened economies and lead to regionalism. "The dollar has been the reserve currency for too long and will get stronger. This call for a new reserve currency is very premature and quite surprising," said the head of treasury of a national bank.

The general consensus was the forum would bring greater clarity on the current recession.

"One of the things that is quite clear from the forum is the expectations regarding the length and depth of this recession are not on the optimistic side," said Papazian.

"They are trying to prepare for the worst, and cannot really predict the future. The best strategy is to expect the worst seems to be the basic message coming out," he added.

In addition, global supervision and regulation for banks and other financial factors, once shunned by free-market thinkers, was the topic for discussion among policy-makers gathered in Davos.

Senior regulators admitted they made mistakes in the way they controlled the banking sector.

Together with policy-makers they are now increasingly looking to work closely with governments and others to build a global financial architecture strong enough to absorb future shocks.

"Regardless of how the financial crisis evolves, a new philosophy needs to evolve in respect with supervision," Swiss President Hans-Rudolf Merz, who is also the country's finance minister, told participants. (With input from agencies)


The Middle East in 2009

What the forum heard

- 2009 will be a bad year for the world economy and the Middle East. In the region, the economic situation actually started before the housing and financial crises; it started with a food and energy crisis last year. Things will get worse before they get better.

- The effects of the financial crises – internationally and regionally – will be enormous this year and probably in the following year as well. A G20 structure is more inclusive for addressing crises than the G8, but it is not enough. The global financial system needs change or there will be more crises to contend with in the future.

- What happens in the Gulf affects the rest of the Middle East. For countries such as Jordan, Egypt and Lebanon which export labourers outside their borders, unemployment will rise in 2009 and remittances will fall.

- Unemployment will be a real challenge, especially as large numbers of youth start entering the workforce. It is estimated 100 million jobs need to be created in the Middle East by 2020. This cannot be done given the current situation; the youth bulge is a potential time bomb.

- Improving education at primary and secondary levels, as well as offering training to fill the skills gap, can be a remedy.

- The Arab world is the only region that barely trades with itself. Trade between Arab countries has only increased from eight per cent to 14 per cent; however, if oil is taken out of the equation, inter-regional trade is slightly higher.

- Without interdependence, future does not look bright. But if the borders become more open and there is economic co-ordination, region can become integrated economically. 
Follow Emirates 24|7 on Google News.