New Saudi Central Bank head urges banks to tap debt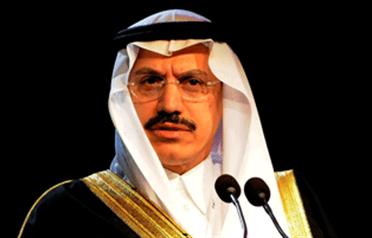 Saudi Arabia
's new central bank governor said on Sunday market talk of tight financing for projects was "probably a little exaggerated" but urged banks and companies to tap the debt market to boost financing capacities.
Liquidity in the Saudi banking sector is adequate and borrowing cost is now reasonable after the central bank slashed interest rates by more than half since October, Muhammad al-Jasser told Al Arabiya television.
"There are some hints in the market that banks are not financing long-term projects. They have not been doing this in an important way in the past and I don't expect them to do that, given the nature of deposits they hold," he said.
"The market talk is probably a little exaggerated," he said.
"We have not noticed any deficiencies or delay in providing the necessary financing for useful projects," he said.
Commercial banks, he said, have always had a minor role in long-term financing of large-scale projects with much of the financial burden being taken by government-owned funds, he said.
Jasser, who had been vice governor of the Saudi Arabian Monetary Agency (Sama) since 1995, was promoted on Saturday to the post of governor, replacing Hamad Saud al-Sayyari who had been at the helm since 1983.
Sama's five-time reduction of interest rates since October has slashed interbank lending rates by more than two-thirds, he said.
"Now banks say we don't want additional liquidity. In fact they deposited and are still depositing very large sums of money with ... (Sama)," he said.
"Liquidity is available and the cost is very reasonable for any loan (need) that is economically viable and deserves financing," he added.
The Saudi economy and financial sector are "now going through a phase of stability that is subject of envy", he said.
"This shows the success of the monetary policy," he said.
The biggest challenge lying ahead for the new governor is to "continue on this course and preserve this obvious stability," he said.
Commercial banks and firms seeking financing should tap more the debt market with the issue of bonds.
"I hope commercial banks and also ... companies will start issuing these bonds because these are important long-term financing tools," he said.
"This has been done only a little and offers very huge possibilities to finance large-scale productive projects for the Saudi economy," he added.
Hinting however that banks may have become more selective in financing projects, Jasser noted that it was normal in the aftermath of the global financial crisis.
"Banks are seeking ... healthy loans that will be recovered because the main source of financing is ... deposits and these can not be taken lightly," he said.
"We don't live in a cocoon ... Collapses that happened abroad should force every investor and every banker to reconsider loans and projects and this is expected and accepted," he said.
To show that loans have kept on growing in 2008, Jasser noted that bank loans in 2008 equalled their total during the previous two years.
"We have not noticed any major change in the volume of loans," he told Arabiya.
The oil-based economy is expected to recover faster than other countries from the repercussions of the global financial crisis, local newspaper al-Watan on Sunday quoted Jasser as saying.     
Follow Emirates 24|7 on Google News.