Obama confident reforms will work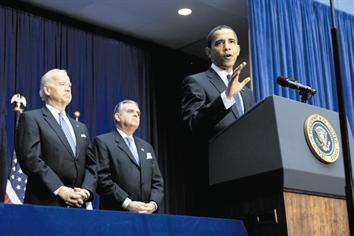 US President Barack Obama expressed confidence his economic reforms would work as senior officials began lobbying Congress to support the administration's jaw-dropping budget proposal.

"We need economic growth and access to credit. That is what we are focused on in the next year or two," White House Budget Director Peter Orszag told the House of Representatives Budget Committee, formally launching the sales pitch for the $3.5 trillion (Dh12.8trn) spending plan for the 2010 fiscal year.

Orszag and Treasury Secretary Timothy Geithner defended the budget, which envisions a whopping $1.2trn deficit and proposes increasing taxes on the wealthiest Americans to help pay for domestic initiatives.

Some Republicans have criticised the proposed budget as a return to expensive Democratic-style big government, especially when it is combined with a $787bn emergency economic stimulus package already pushed through by Obama and his fellow Democrats.

Orszag stressed that the budget includes $28bn in loan guarantees to jump-start small business activity, while a much larger consumer lending programme also was launched by the administration.

Obama hopes his 10-year budget plan will be the engine of economic growth, if Congress embraces it.

In a meeting with visiting British Prime Minister Gordon Brown on Tuesday, Obama said he was sure the US economy would rally despite a weak near-term prognosis.

"I'm absolutely confident that credit is going to be flowing again, that businesses are going to start seeing opportunities for investment, they're going to start hiring again," he said.

US stocks responded favourably to Obama's comments, inching up, before falling slightly for the day.

An NBC News/Wall Street Journal poll found 68 per cent of Americans have a favourable opinion of Obama and 60 per cent approve of the way he is handling his job.

Despite the struggling economy, 41 per cent of Americans said they think the country is headed in the right direction, up from 26 per cent in mid-January, before Obama took office, the poll found.

House and Senate committees are expected to pass within the next few weeks their versions of a federal budget for fiscal year 2010, which begins on October 1.

On the table are dramatic proposals from Obama, including huge new investments to expand health insurance, protect the environment from global warming and beef up education and other domestic programmes.

At the same time, House Budget Committee Chairman John Spratt told Orszag that he would like to see "a decline in deficits after 2013" – reflecting widespread unease over the mounting size of the deficits.

The budget that Obama unveiled last week envisions US budget deficits falling by half or so to about $533bn in 2013, only to then bounce back up and continue rising to $712bn in 2019.

Senior Republicans on the committee criticised Obama's budget plans. "This budget never comes close to balancing," Representative Paul Ryan said.

Obama hailed a new lending facility unveiled by the Federal Reserve and the Treasury on Tuesday, which officials said was key to expanding consumer lending and could generate up to $1trn in new loans.

Many economists have expressed concern the current US stimulus package would have only a modest impact on 2009 growth and that consumers would be inclined to pocket tax cuts as they try to rebuild savings wiped out by falling real estate prices and stock markets.

The US economy suffered its deepest contraction since 1982 in the fourth quarter of last year, plummeting at a 6.2 per cent rate as consumers pulled back sharply on their spending. The data has contributed to the huge sell-off in US stocks markets, pushing them down to 12-year lows.  
WHAT DO YOU THINK? Will Obama's reforms revive the US economy? Have your say by posting a comment below, or emailing us at online@business24-7.ae.
Follow Emirates 24|7 on Google News.