Obama rescue package may help improve liquidity in Gulf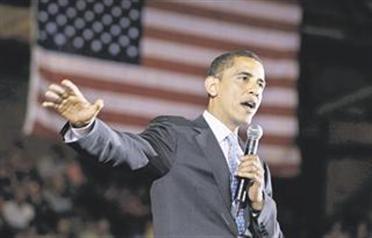 Business experts in the region are banking on the new US president's $800 billion (Dh2.9 trillion) stimulus package to unlock vital liquidity for the Gulf.

And actions taken by Barack Obama just hours into his new job could also energise Middle East-US trade ties, according to prominent American business leaders in the UAE.

On his first morning as President, Obama made four phone calls that were heard by the world: he spoke to Egypt's President Hosni Mubarak, Israel's Prime Minister Ehud Olmert, Jordan's King Abdullah and Palestinian President Mahmoud Abbas. He also promised decisive action on reviving the ailing US economy.

Both moves are positive for business in the UAE and the wider Middle East region, according to Jeffrey Culpeper, Head of Investment Banking, Middle East and North Africa, at Credit Suisse.

"Opening a dialogue with the Middle East in his first few days was very important for trade flows between the US and the region. The Middle East is after all a crucial business partner with the US.

"The economic stimulus is vital to restoring confidence in the US. While it won't have a direct impact on the Middle East, the US is so important to the global economy – its actions affect lending and credit," Culpeper said.

He said the severe lack of liquidity in the US has had a detrimental effect on international markets, and added: "As soon as the US market opens up, the excess liquidity will be looking for a home. And with the growth rate in the Gulf region, it presents itself as an ideal place."

Anne Jafrey, Ex-Officio President at the American Business Council of Dubai and the Northern Emirates, said a revived US economy could provide a much-needed ripple effect for local markets.

In the same way as the economic earthquake that started on Wall Street spread to Europe and the Middle East, Jafrey said, the hope is that the same will be true when things are put back in line in the US.

"If Obama's stimulus package does what it's supposed to then it will heal the economy in the US, and its ripple effects will, in turn, be seen across the Middle East. But this won't happen overnight," she said.

Relations between the UAE and the US have remained strong in recent years and were underlined earlier this month with the signing of a nuclear energy co-operation agreement.

The deal, signed by outgoing US Secretary of State Condoleezza Rice and Sheikh Abdullah bin Zayed Al Nahyan, the UAE Foreign Minister, took the Emirates a step closer to becoming the first Arab state to develop nuclear power.

"The US and the UAE already share a very strong relationship, especially on the support for nuclear power development in the Emirates," said Chris Hansen, Chair of Democrats Abroad in the UAE.
Follow Emirates 24|7 on Google News.