Obama's advisors say $775bn stimulus will create four million jobs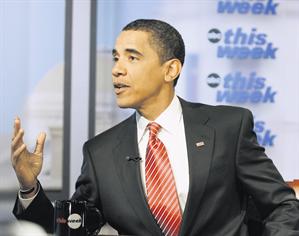 President-elect Barack Obama said a new analysis by his economic advisors indicated that his economic recovery plan "will likely save or create three to four million jobs".

He also called again for "immediate and dramatic action" to deal with the deepening US economic crisis that has cost millions of Americans their jobs.

In his weekly radio and YouTube broadcast address, Obama pointed out that he has taken the unusual step of working ahead of his January 20 inauguration with members of his own Democratic Party as well as the rival Republicans to seek consensus on a plan to stimulate a recovery from the recession.

Obama has provided few details of his estimated $775 billion (Dh2.8 trillion) plan so far.

Obama said he wants more transparency and strict guidelines for using the second $350bn of the bailout fund the Congress approved last fall to stabilise the nation's financial system.

Obama's economic team has been talking with the Bush administration about having Treasury Secretary Henry Paulson ask the Congress as early as this week for access to the $350bn remaining in the bailout fund.

If Congress rejected such a request, a presidential veto could still free up the money, unless Congress overrode the veto.

The Congressional Oversight Panel raised detailed questions last week about how banks are spending the first $350bn, how the money will combat the rising tide of home foreclosures and Treasury's overall strategy for the rescue. Obama said he would not try to dictate to lawmakers the details of an economic stimulus package but would work closely with them to hammer out a plan.

"We are going to have a collaborative, consultative process with the Congress over the next days," he said.

"We are not trying to jam anything down people's throats," he said.

Obama wants passage of a stimulus plan by mid-February, saying it is crucial to jump-starting the economy.

Although most lawmakers agree with Obama that drastic action is needed, he has faced scepticism among some members of the Democratic-led Congress about aspects of his plan, such as a proposal for tax breaks to businesses to encourage hiring. Obama said the bulk of his plan would go towards spending on such public projects and on initiatives like laying down broadband lines and making homes and government buildings more energy efficient.

Obama said such projects delivered "the most bang for the buck" because they provide jobs to people, enabling them to spend more, which has ripple effects throughout the economy.

Some economists believe tax cuts may be less effective in stimulating economic growth than direct government spending. Some contend, for example, that tax cuts may end up being saved by worried consumers rather than spent, limiting their ability to spur growth.

Among the tax cuts Obama said he favoured was a plan to give early tax write-offs to business for purchases of new equipment, an idea that tends to be popular with Democrats and Republicans.

Obama said in the interview a recovery would also require personal sacrifice from Americans and scaling back other priorities.

"I want to be realistic here, not everything that we talked about during the campaign are we going to be able to do on the pace we had hoped," he said.

"Everybody is going to have to give," Obama said.
Follow Emirates 24|7 on Google News.