Obama urges Congress to wrap up stimulus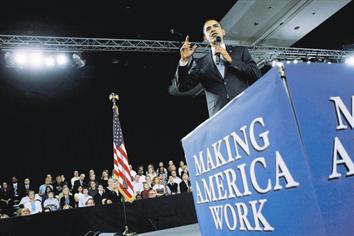 President Barack Obama has urged the US Congress to wrap up a huge economic stimulus bill and warned investors not to expect quick fixes as global stock markets plunged on the lack of detail in a new bank rescue plan.

Obama, speaking at a town hall meeting in a Florida city hard hit by mortgage foreclosures, praised the Senate for passing an $838 billion (Dh3.07trn) spending and tax cutting bill that the president says is crucial to avoid economic catastrophe.

"That's good news," Obama said after an aide passed him a note about the Senate vote.

Obama said there was still work to be done to reconcile differences between the Senate version and a $819bn bill passed earlier by the House of Representatives.

"I'm not going to tell you that this plan is perfect. I mean, it was produced in Washington," Obama said.

"But I can tell you with complete confidence that a failure to act in the face of this crisis will only worsen our problems. Doing nothing is not an option."

The White House said it was optimistic a final bill would be passed before a weekend deadline laid down by Obama.

"We have to reconcile some differences. But we've got broad agreement from a majority of those in Congress for a sizable recovery package... so I think we're in a good place," White House spokesman Robert Gibbs said.

In Washington, Treasury Secretary Timothy Geithner unveiled a bank rescue plan to remove up to $500bn in bad assets and support $1trn in lending.

But the stock market, hoping for more details, tanked on the news.

"Wall Street, I think, is hoping for an easy out on this thing and there is no easy out," Obama told ABC News in an interview, adding the problem was caused by some banks whose books were not as transparent as they should have been.

"There's a lot of work that has to be done to put these banks back on a firmer footing," Obama said.

Geithner did not detail how the administration would address housing issues that sparked the financial and economic crises. Obama said he would lay out those plans himself.

"I'm going to be personally making an announcement in the next couple of weeks what our overall housing strategy is going to be," Obama told the Florida audience, answering a question about the unwillingness of banks to restructure the terms of housing loans when homeowners were not yet in default. The Fort Myers visit, which included emotional moments with people hurt by the recession, was the second stop on Obama's tour taking the stimulus package directly to Americans.

On Monday he went to Elkhart, Indiana, where unemployment has rocketed as the economy fell.

The stimulus package is an important initiative for the Democratic president, who took office three weeks ago, inheriting the worst economic crisis in decades from his predecessor, George W Bush. Obama wants a finished bill on his desk by February 16.

Republicans complain it has too many spending projects and not enough tax cuts. The House version passed with no Republican support, while the Senate version drew only three Republican votes. The final version will also need those votes to pass, setting up a new round of haggling this week.

Obama went to Fort Myers partly because it had the country's highest foreclosure rate last year.
Follow Emirates 24|7 on Google News.