Obama weighs Bernanake support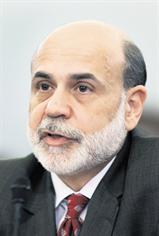 US President Barack Obama called lawmakers to check that Federal Reserve Chairman Ben Bernanke had enough support for a second term and two key senators said the nomination was on track.

In a sign of how worried the White House is about a sudden recent surge in opposition to Bernanke's renomination, Obama contacted the Democratic Senate leadership to make sure it had enough votes.

"[The] president made... calls to a few senators this afternoon including leadership to make sure everything is on track and he has been assured that Bernanke is on track for confirmation," a senior administration official said. Bernanke's second term suddenly appeared at risk on Friday after two Senate Democrats announced their opposition. They joined a growing number of senators who vowed to vote against his appointment as November's congressional elections approach against a backdrop of broad frustration with the economy and anger over the way Washington rescued banks. The Democratic chairman and a Republican on the US Senate banking committee said they were confident he would win the Senate's backing.

"Based on our discussions with our colleagues, we are very confident that Chairman Bernanke will win confirmation by the Senate for a second term," Senators Chris Dodd and Judd Gregg said in a joint statement.

A Senate vote on Bernanke next week "seems very likely", Democratic aide said on Saturday. Another Democratic aide voiced confidence Bernanke would have the votes for confirmation.

Bernanke's current term is set to expire January 31.

His critics say the Fed failed to prevent the recent financial crisis, the worst since the Great Depression, and combated the meltdown in a way that favoured banks and others in the financial industry at the expense of ordinary citizens. Dodd, a Democrat, and Gregg, a Republican, said reports about Bernanke's confirmation prospects were "highlighting a very vocal opposition".

They said Bernanke had done "an excellent job" responding to the financial crisis and they supported him because "he is the right leader to guide the Federal Reserve in this recovering economy". Senator Dick Durbin, the No 2 Democrat, said he would vote to confirm Bernanke but planned to meet him ahead of the vote to "continue to demand a commitment to transparency and accountability" in Fed policy.
Keep up with the latest business news from the region with the Emirates Business 24|7 daily newsletter. To subscribe to the newsletter, please click here.
Follow Emirates 24|7 on Google News.