OECD chief hits out at 'Buy American' clause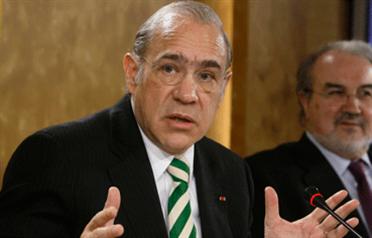 The head of the OECD Monday appealed for efforts to fight any new protectionist measures such as the "Buy American" provisions in the US economic stimulus bill.
"We must fight with all our strength to condemn any measure that goes against the huge advances that we have seen in terms of the opening up of markets," Angel Gurria, secretary general of the Organisation for Economic Cooperation and Development, told a news conference in Madrid.
He was responding to a question about the "Buy American" clause in the $787-billion US stimulus package, which requires the use of US iron, steel and manufactured goods in public works projects funded by the bill.
The US House of Representatives on Friday passed the stimulus package on Friday and the Senate was poised to follow suit.
US President Barack Obama, who took office last month after campaigning for renegotiation of international US trade agreements, had already raised concerns in the US and abroad that the world's biggest economy, mired in recession for more than a year, would construct trade barriers to help protect jobs.
Gurria said he was reassured by the outcry, including the US, over the "Buy American" provisions.
The finance ministers and heads of the central banks of the G7 richest nations also agreed to fight protectionism at their meeting in Rome last week.
Follow Emirates 24|7 on Google News.