OECD urges China to run budget deficit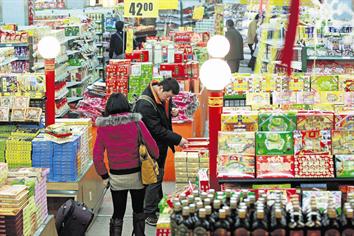 China needs to run a continued fiscal deficit and let its real exchange rate rise to rebalance its economy towards domestic demand and thus sustain the impressive growth of recent years, the OECD said yesterday.

In only its second full-length study of non-member China, the Organisation for Economic Co-operation and Development maintained its November forecast of an acceleration in GDP growth to 10.2 per cent in 2010 from 8.7 per cent last year.

The report highlights major challenges facing China, including the ageing of the population; income inequalities; fragmented social safety nets; the inability of small firms to access financing; and a lack of incentives for innovation due to weak protection of intellectual property rights.

But Richard Herd, the main author of the study, said the scope for further gains in productivity to sustain the "stunning" recent rise in living standards as workers move off the land and into cities. "There's a very quick catch-up process in place at the moment," he said in an interview.

Despite its bullish 2010 GDP forecast, which is in line with the 10 per cent growth projected by the International Monetary Fund, the OECD said near-term economic overheating was unlikely as the economy currently had ample spare capacity.

Consumer prices would rise 1.8 per cent in 2010, an upward revision from its November forecast of a 0.1 per cent increase.

The OECD said the fiscal deficit remained small despite Beijing's Y4 trillion (Dh2.15trn) stimulus programme and advised against a return to the conservative spending policies that left the general government budget in surplus to the tune of more than five per cent of GDP in 2007 on the eve of the global downturn.

"Further out, maintaining strong domestic demand will require a continued fiscal deficit," the report said.

Asking China to have a flexible exchange rate regime with open capital markets, the OECD said a first step would be to link the yuan to a basket of currencies and to announce the composition of the basket.
Keep up with the latest business news from the region with the Emirates Business 24|7 daily newsletter. To subscribe to the newsletter, please click here.
Follow Emirates 24|7 on Google News.