Oman's economy grows by 3.7 per cent in 2009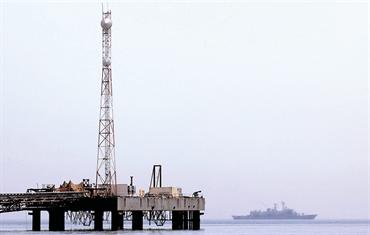 Higher oil production along with a record public spending boosted Oman's economy by 3.7 per cent in 2009 despite the downward pressure of the global fiscal crisis, the country's minister of national economy has said.

But a 44 per cent plunge in oil prices sharply depressed the country's current account surplus while inflation tumbled to below a third of the 2008 level, Ahmed Mecki said on Saturday after unveiling a record budget for 2010.

"The price of Omani crude dropped by nearly 44 per cent from $101.1 (Dh371.03) in 2008 to $56.7 in 2009. Yet, the national economy recorded a real growth of 3.7 per cent while the decline in current prices did not exceed 20 per cent," he said.

"The national economy was able to face the external shocks because of several factors, mainly the increase in our oil production, the government's policies aimed at diversifying the economy and encouraging investment and measures to support domestic demand and ensure sufficient liquidity in the local market."

Mecki said Oman's crude output grew by about seven per cent to an average of 810,000 barrels per day in 2009 from just more than 750,000 bpd in 2008 as part of the country's drive to reverse a decline in oil output recorded in previous years.

Growth in 2009 was higher than the three per cent GDP increase forecast previously by the International Monetary Fund and far above the level of just 0.15 per cent recorded in neighbouring Saudi Arabia, the world's oil superpower.

But it was much below the 14 per cent growth achieved in 2008, when the economy of Oman and most other oil producers raced at one of their quickest paces because of a surge in crude prices and high oil output.

"The government's financial, economic and monetary policies have proved to be effective in cushioning the impact of the sharp fall in oil prices and the repercussions of the global crisis on the country's non-oil economy, which recorded a real growth of around 2.9 per cent in 2009," Mecki said.

But his figures showed lower oil prices sharply depressed Oman's trade and current account surplus, with hydrocarbon exports plummeting by around 41 per cent against an increase of nearly 16 per cent in non-oil exports.

Despite a decline of about 23 per cent in the country's imports, the trade surplus slumped by 32 per cent, according to Mecki.

The current account, the difference between the import and export of trade and services, as well as financial flows, tumbled to around RO212 million (Dh2.03 billion) in 2009 from nearly RO2.1 billion (Dh20.2 billion) in 2008. This depressed the balance to only 1.1 per cent of the GDP from 9.1 per cent.

As for inflation, Mecki estimated the rate at around 3.6 per cent in 2009 compared with a record 12.4 per cent in 2008. "This sharp decline in inflation was a result of the drop in global commodities prices in the aftermath of the crisis, and the monetary policies adopted by the Sultanate and its measures to protect consumers."

Mecki put budgetary expenditure for 2010 at a record RO7.18bn (Dh68.9bn), nearly nine per cent above the 2009 budget.

Revenues were projected at RO6.380bn, leaving a deficit of RO800m, slightly lower than the 2009 RO810m shortfall, which was slashed to only RO15.1m in the first 10 months of last year as a result of higher than expected oil prices.

"Oil and non-oil revenues are expected to cover 89 per cent of the budgetary spending in 2010. The rest would be covered from the country's reserves in case oil prices did not average higher than has been forecast," Mecki said.

Oman is the only Gulf country that has not cut its oil output as it is not an OPEC producer and it has been locked in a $multi-billion programme to expand its crude and gas output capacity and boost reserves.

In 2009, the country assumed spending at a record RO6.42bn while actual expenditure stood at RO5.46bn in the first 10 months.
Keep up with the latest business news from the region with the Emirates Business 24|7 daily newsletter. To subscribe to the newsletter, please click here.
Follow Emirates 24|7 on Google News.