Oman takes measures to block entry of hot money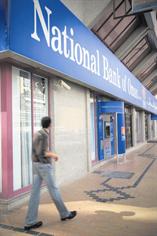 Oman has taken measures to block entry of hot money that began pouring into the Gulf in 2007 because of mounting speculation about an appreciation of local currencies, the chief of the Central Bank of Oman (CBO) has said.

Hamoud bin Senjour Al Zedjali said the measures are part of CBO's intensified intervention in the banking sector to ensure local banks are not affected by the global economic crisis that has hit scores of financial institutions worldwide.

In statements published by Omani newspapers yesterday, Zedjali said the Sultanate's banks had not been directly impacted by the crisis and that they had generally recorded high growth in their profitability and other operations in 2008.

"The CBO is closely monitoring the global financial developments and the banking situation inside Oman… should the need arise, it will not hesitate in intervening because it is following a careful and vigilant policy," he said.

"As part of this policy, the CBO does not allow Omani banks to obtain big foreign currency loans from external markets to finance their operations nor does it allow the entry of capital for speculative purposes."

Al Zedjali was referring to funds invested by foreign banks and other financial institutions in deposits with Gulf banks to take advantage of any appreciation in local currencies against the US dollar that hit one of its lowest levels in 2007.

Massive funds were pumped into the region's banks for such a purpose through 2007 and the first half of 2008 but officials and bankers have reported the exit of most of what they termed as hot money in the second half of last year after speculation about a GCC currency revaluation largely abated. Oman became the least attractive for such investments following its decision to pull out of the planned GCC currency union as this means it could keep its currency pegged to the US dollar. Speculation mounted about this peg after a landmark free trade pact between Oman and the US took effect on January 1.

According to CBO, foreign liabilities of Oman banks, most of which are in deposits by foreign banks, plunged to around RO1.6 billion (Dh15.3bn) at the end of November from RO1.87bn at the end of October. They had steadily grown since the start of 2008, when they stood at RO408 million. "Oman's banking sector has become mature and capable of adapting to economic changes and this has allowed it to remain immune to the direct effects of the global financial crisis," Zedjali said.

"As for the banks' deposits abroad, I don't think they have been effected and our banks are now working to recover those deposits to fund economic activity and development in Oman… our banks realise the importance of using their deposits in stimulating domestic lending activity and supporting the local economy."

His figures showed the deposits of Omani banks abroad stood at around RO1.193bn at the end of November. Total assets peaked at RO13.7bn at the end of November while credits jumped by 52 per cent to RO8.7bn at the end of November 2008 compared to November 2007. The banks' collective capital and reserves also soared to RO1.5bn from RO1.2bn in the same period. The figures also showed their net profits shot up by nearly 39 per cent to around RO246.2m in the first 11 months of 2008 from nearly RO176.9m in the same period of 2007.
Follow Emirates 24|7 on Google News.