Pelosi signals willingness to add to the rescue fund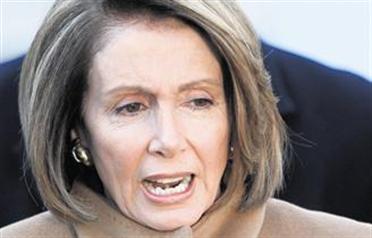 US House Speaker Nancy Pelosi said yesterday the federal government may need to pump more taxpayer funds into the faltering banking system and that taxpayers should receive equity as compensation.

Pelosi told ABC's This Week programme "some increased investment" might be needed beyond the $700 billion (Dh2.5 trillion) approved last year under the Troubled Asset Relief Program (Tarp), to stabilise the nation's banks and get them to resume making loans.

The Congress would require more oversight of any further bank bailout, the California Democrat said.

"Change has to happen in terms of what is done, what the transparency of it is, what the accountability of it is. Only then would we be able to pass any additional funding," Pelosi said.

President Barack Obama's pick for treasury secretary, Timothy Geithner, said last week the Treasury had no plans to request more bailout money beyond the $700bn authorised, but the situation was "dynamic".

"We have to be prepared to act flexibly and with speed if conditions worsen appreciably, to devote more resources if that is necessary to secure our objectives," he wrote last week in reply to written questions during his confirmation hearing.

Billions of dollars in auto and credit card debt held by banks are expected to default in 2009, after the billions in mortgage-backed debt that initiated the financial crisis. The first $350bn in Tarp funds has been committed and lawmakers agreed last week to release the second half.
Follow Emirates 24|7 on Google News.