Public spending to help Saudi economy grow by 4% this year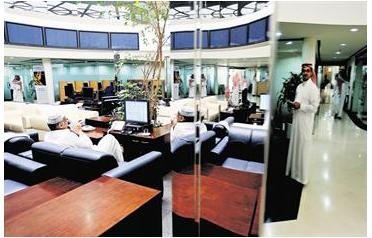 High public spending will ally with rising bank lending to boost Saudi Arabia's economy by nearly four per cent in 2010 after recording one of its lowest growth rates in 2009 over the past eight years, a local study said yesterday.

The kingdom's gross domestic product, the largest in the Arab World, edged up by only about 0.15 per cent in 2009 and growth is projected to accelerate by nearly four per cent in 2010, said the study by Saudi Jadwa Investments.

The recovery could prompt the world's oil powerhouse to hike interest rates as part of a cyclical policy to spur demand during an economic downturn and curb inflation during boom periods, Jadwa said.

"Economic performance is expected to improve in 2010. External and policy conditions have been supportive for some time, with oil prices consistently more than $60, strong government spending and exceptionally low interest rates, but a lack of consumer and business confidence has held the economy back," it said.

"With the global economic recovery likely to struggle to retain momentum, we expect the supportive policies to remain in place."

According to the study, Saudi banks have become more comfortable with their debt exposures and lending to the private sector has started to rise.

Further growth in lending should boost business sentiment, lifting share prices, which in turn will bolster consumer confidence, it said.

"This virtuous circle should result in stronger economic growth in 2010, though ongoing problems accessing credit, particularly from foreign lenders, and weak export markets will constrain the pace of growth," said the study.

Jadwa expected real GDP to grow by about four per cent while nominal growth could be as high as 13.5 per cent because of stronger crude prices. This is in sharp contrast with the 22 per cent decline in 2009 due to lower oil prices.

"Modest growth in oil revenues will also result in a low current account surplus and only a small increase in Sama net foreign assets," it said.

Its forecasts showed inflation rates could remain unchanged at about 4.4 per cent in 2010 as commodity prices are well above their lows of late last year, the dollar is weaker and there remains a shortage of housing that will continue to push up rents. However, the report added, domestic bottlenecks have eased and inflation in the kingdom's main trading partners will be very low.

"The expected pick-up in economic growth in the kingdom will generate the need for higher interest rates much sooner than in the US. Given Sama's limited room for manoeuvre, this misalignment could result in renewed speculation against the riyal's peg to the dollar. No change to the peg is forecast."

Saudi Arabia last week unveiled the largest budget in its history for 2010 as it was apparently buoyed by an improvement in oil prices, a sharp decline in public debt over the past seven years and a surge in foreign assets.

Spending was projected at SR540bn (Dh528.82bn) and revenue at SR470bn, creating a budget deficit of SR70bn. But Jadwa and other Saudi institutions expect the balance to turn into a surplus at the end of the year because of higher revenue.

"We forecast a budget surplus of SR13bn in 2010. This is because we expect the oil price to be higher than that used in the budget and therefore those oil revenues will exceed the budgeted total. We forecast total oil revenues to the budget at SR621bn and non-oil revenues at SR90bn," said the Jadwa study.

"Spending will be in excess of the budgeted level. Actual spending has averaged 21 per cent above budget over the last 10 years and even though oil prices were below the budget assumption for part of last year, the budget was still overspent by 16 per cent. We project total spending in 2010 at SR616 billion," it said.
Keep up with the latest business news from the region with the Emirates Business 24|7 daily newsletter. To subscribe to the newsletter, please click here.
Follow Emirates 24|7 on Google News.