Regional CMT firms do well despite crisis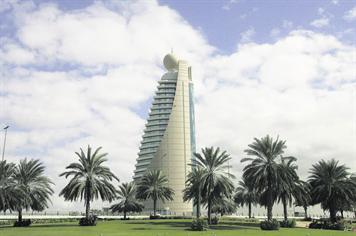 While 2008 was a horrible year for most communications, technology and media (CMT) companies worldwide, many Middle East and Africa players, including UAE's first telecom service provider etisalat and Egypt's Orascom, demonstrated above average performance. Among all regions, the Middle East and Africa, along with Latin America, posted the highest Shareholder Performance Index (SPI), according to a sector report by Oliver Wyman, an international management consulting firm.

The calculation of the SPI, which is based on a five-year moving "window" of data, enables consistent comparison of shareholder returns by adjusting for the volatility of returns, differences in local interest rates, and mergers and acquisitions, Oliver Wyman's second annual Communications, Media and Technology State of the Industry 2009 report said.

CMT companies around the globe collectively shed $3.1 trillion (Dh11.3trn) in market value in 2008, a 43-per cent drop from $7.3trn to $4.2trn – erasing all the gains that had been made since 2003.

The report analyses the top publicly quoted 450 companies worldwide in the CMT industries, and highlights several forward-looking and dynamic, long-term trends among industries in the Middle East.

A handful of companies were able to navigate the rough economic waters and post outstanding performance in Oliver Wyman's SPI. "Mobile phone carriers in particular are clearly gaining value at an exponential rate, and one prime example of the shift is the emergence of telecom powerhouses in the Middle East and Africa," said Milan Sallaba, Dubai-based partner of Oliver Wyman.

The research shows that some consumer segments in this region are leapfrogging regular mobile phones in favour of smartphones, and subscriptions on a 3G network now account for half of total mobile phone subscriptions.

Internet access has also contributed to wireless internet growth and the rate of laptop sales in the Middle East and Africa is now 10 times higher than for traditional PCs.

Although there is still ample room for growth in emerging markets, many of the remaining unserved customers live in remote, rural regions that are difficult and expensive to reach. Thus, smart players are beginning to look for second generation value-creation opportunities, such as differentiated products and services for increasingly sophisticated consumers, services and support for business customers, reverse expansion into new markets, both close to home and in the developed world.

Many emerging-market players who have honed their offerings to appeal to low-income consumers may prove very competitive with today's frugal consumers. Once they have established a position, they might be able to adjust their offerings to attract high-end consumers as well, the report said.

"Playing defence, by reducing costs to protect your profit margins, does not mean you can't play offense as well, and that's largely what distinguishes the top performers. So as geographic and sector boundaries blur, large companies that are flush with cash have the opportunity to redefine themselves through acquisitions, relocated plants, and other strategic moves. An economic crisis is also an opportunity for companies with strong balance sheets to make smart investments," the analyst said in the report.

TELECOM

Telecom companies (which include the fixed- mobile phone- and cable sub-sectors) from emerging markets navigated the rough economic waters far better than their peers in developed markets, and they are starting to expand outside their home turf.

Mobile phone carriers in emerging markets have built significant value in the past few years, as demonstrated by the emergence of telecom powerhouses in the Middle East and Africa. Often building from small home markets, the top telecom players in the Middle East and Africa had created a combined market value of almost $100 billion at year-end 2008, lead by South Africa's MTN Group at $21.9bn, Morocco's Maroc Telecom at $16.8bn, and the UAE's etisalat at $16.2bn; all three are above-average SPI performers, as is Egypt's Orascom.

Among regions, China, Latin America, and the Middle East and Africa posted the highest average communications SPI scores, at 237, 209, and 201, respectively, versus the overall communications average of 174.

Continued demand growth in emerging markets has fuelled strong SPI scores in those markets, despite the losses suffered in 2008.

Weaker performances were posted by the United States and Canada (138) and Western Europe (157).

Kuwaiti telecom company Zain is highlighted in the report as an example of operation excellence, demonstrating how customer-centric product offerings can increase sales and revenues in a saturated market.

Zain, which since 2003 has expanded and grown from a single operation in Kuwait to 22 countries across the Middle East and Africa, now serves close to 60 million customers. While the Kuwaiti operation today contributes just three per cent of overall subscribers, it generates about 20-per cent of group revenues and 50 per cent of net profits (as of the first half of 2008).

As a result, Kuwait remains a key asset in the portfolio, and Zain actively seeks to defend its position in that market.

Another emerging-market player that has moved into developed markets is Egypt-based mobile networks operator Orascom Telecom Holding (OTH).

After successfully expanding in the Middle East, Africa, and South Asia, Orascom acquired enough strength and experience to acquire operations in Italy and Greece, and plans to launch an operation in Canada. Orascom has about 80 million subscribers in the Middle East, Africa, and South Asia.

Orascom has operated mobile phone networks in Egypt, Pakistan, Bangladesh, Algeria, Tunisia, and North Korea, after an initial joint venture with France Telecom in Egypt in the early 2000s. OTH, as both a public and family-run business, is operating with a unique governance and operating model.

TECHNOLOGY

The technology sector includes the communications hardware, computer services, consumer electronics, hardware, semiconductors, and software sub-sectors.

Of these sub-sectors, consumer electronics was hit the hardest in 2008, with a 49-per cent drop in market value, followed by a 48-per cent drop in hardware and semiconductors, – declines more pronounced than those in most broad public markets.

Between 20-per cent and 25-per cent of the world's population uses the internet, more than double the penetration rate of just five years ago. Users increasingly access the internet through mobile devices.

A review of the 2008's first quarter data for leading telecommunications firms in 57 countries shows that more than half of their $8bn in monthly data revenues comes from wireless internet access plans, up from 40-per cent a year ago. Through wireless and Wi-Fi networks and data cards, users can connect via laptops or netbooks; largely as a result, global laptop sales are growing at three times the rate of traditional PCs.

Laptop sales now account for 40-per cent of all PCs sold. The growth is even more dramatic in emerging markets: In Latin America, laptop sales have been growing at a CAGR of 50-per cent for the past three years; in the Middle East and Africa, their growth rate is 10 times that of traditional computers.

As telecommunications firms deploy 3G networks, consumers are also accessing the internet through smartphones, which now make up an estimated 15-per cent of global cell phone sales, up from three per cent in 2004. Smartphone shipments grew from 16 million in 2004 to 120 million in 2008, and through the first half of 2008, grew more than three times the rate of regular cell-phone shipments. Oliver Wyman research shows that consumers in emerging markets are leapfrogging regular mobile phones in favour of smartphones in startling numbers.

Further growth is likely. In the Middle East and Africa, subscriptions on a 3G network now account for half of total mobile subscriptions. Many of the best-performing technology companies are deriving more of their revenues from businesses outside of what made them successful in the first place – including Apple in the music business and Google in the operating-system business - according to the report.

Geographic boundaries also are blurring, and an increasing number of companies that have cut their teeth in emerging markets now see opportunities outside their country and region, although they may not be household names there.

Among technology firms, Apple took top SPI honours, at 381, outperforming the average technology score of 82 more than fourfold. Nintendo took the No 2 spot for SPI performance (350), while ANSYS, a US-based engineering software firm, posted an SPI of 317. Notable new entrants to the top 20 SPI list for all of CMT include HTC, the Taiwanese mobile phone-device manufacturer, which ranked No 10 overall.

MEDIA

Traditional media businesses are dropping like dinosaurs, yet new media companies are not recouping all of that lost value. Instead, market value is flowing to other sectors, the report noted.

In 2008, the sector lost 47-per cent of its market value, to $40bn, a steeper decline than most broad stock markets.

Over the period 2003 through 2008, some value shifted from traditional to new media – but the absolute loss in traditional media was not offset by the absolute gains in new media. Traditional media – including media agencies, publishing, and broadcast and entertainment – lost 32-per cent of its market value, or $137bn, while new media (online content and services) gained 102-per cent or $58bn.

By contrast, the mobile communications sector gained in share of total CMT market value, in part because consumers are more willing to view content on mobile devices, and because telecoms operators have developed business models that offer content as a loss-leader in order to generate healthy margins on subscriptions.

"Media companies risk becoming add-ons to the telecoms players' plans," said Sallaba

"They face the challenge of better understanding what consumers actually want and will pay for, as well as finding new areas of growth in emerging markets and through online advertising models."

The top three SPI media performers were Tencent Holdings of Hong Kong (No 1 among all CMT companies), Naspers of South Africa, and NHN of South Korea.
Follow Emirates 24|7 on Google News.