Rising joblessness could push back recovery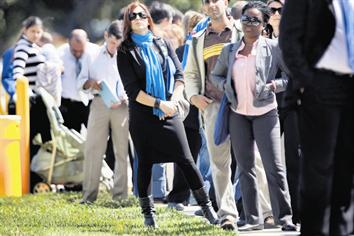 Another calamitous jobs report and other bleak data suggests further pain ahead for the recession-battered United States economy, and may delay recovery from the worst slump seen in decades, analysts say.

Employers axed 651,000 jobs in February sending the unemployment rate to a 25-year high of 8.1 per cent, according to official data.

The Labour Department also revised upward its estimates for losses for the previous two months – 655,000 in January from 598,000, and 681,000 in December from 577,000. The figures made December's losses the worst on record since October 1949, officials said. The unemployment rate rose from 7.6 per cent in January to 8.1 in February, the highest since December 1983.

"It is ugly and always seems to be uglier than the previous month," said Robert MacIntosh, Chief Economist at investment firm Eaton Vance. "It is a deep and dark recession."

MacIntosh said the report suggests a long road to recovery for the recession-ravaged economy.

"I think you have to go into 2010 to actually start to see growth," he said.

Ethan Harris, an economist at Barclays Capital, said there was no end in sight to the self-reinforcing downward spiral of asset prices and economic activity.

"Our base case is still for an anaemic global recovery to kick in by the end of the year, but the risks of a much deeper, longer downturn are growing," he said.

Some analysts saw a few rays of hope in the report, notably a lessening of the job losses from the revised December peak – possibly suggesting an improving trend.

MacIntosh dismissed the notion of a positive trend, saying the February numbers may end up being revised to show a worsening trend. "We just have an incredible history of dramatic revisions, so why put any faith in the February numbers?" he said.

Aaron Smith at Moody's Economy.com said the jobless rate could rise to 10 per cent, making it harder for the US to pull itself out of the slump. "The deteriorating job picture threatens to magnify the recession by further undermining income, spending and confidence," he said. "Although the government's aggressive policy response will help, it will take time."

Yet some said there were modest signs of hope amid the gloom due to a small improvement from December and January.

"It was an awful report but it was not a death spiral report," said Cary Leahey, Senior Economist at Decision Economics, who said some had been bracing for losses of up to one million jobs.

"While things are terrible, we are tracking the 1981-82 recession very closely."

Leahey added that with tax cuts and various financial rescues taking hold, "I don't see why the economy can't bottom in the next three to six months".

Moreover, some see results coming from the government's $787 billion (Dh2.89 trillion) stimulus and a range of programmes from the government to stabilise the banking sector and ease the housing crisis. Many analysts say these efforts will add at least one percentage point to gross domestic product growth, which slid at a whopping 6.2 per cent pace in the fourth quarter.

Robert Brusca at FAO Economics said Friday's report suggested the worst job losses are past. "The revisions have made the trend looking ahead much less bad… The pattern of declines no longer points to a continuing deceleration," he said.

Economists say a recovery will come, but the question is how quickly.

Stephen Koukoulas at TD Bank Financial Group said the downward spiral in the entire global economy makes it hard for any country to turn the corner to recovery.

"Perhaps the most disconcerting aspect of a cold and clinical examination of the global economy is a lack of any optimism in any major economy," he said.

A report by Moody's Economy.com said there are signs of a bottoming in the US economy, but it remains unclear if a recovery can take hold, making it critical to fix the banking system and ease the housing market mess.

"Massive public sector relief policies are about to provide greater support," the report said but noted that "a key uncertainty has been the extent to which weakness will continue to feed on itself before momentum starts to turn".

"The intensity of the business sector adjustment is producing negative feedback for household fundamentals through declining income and equity prices," the Economy.com report said. "Policymakers are struggling to instill confidence that action taken to jump-start the economy will work."
Follow Emirates 24|7 on Google News.