Sama rules out plans to raise rates as inflation is under control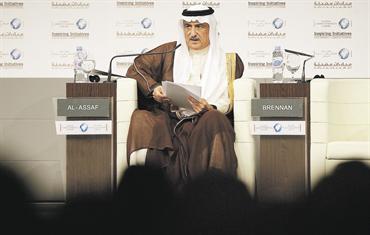 Saudi Arabian Central Bank Governor Muhammad Al Jasser said he is not planning to raise interest rates because inflation is not a concern and demand for loans is not strong enough yet to require higher borrowing costs.

"Raising – that is only to be determined when conditions show that inflation is either getting out of hand or that demand for credit is exceeding the supply of credit in the economy," Al Jasser said in an interview in Riyadh. "I don't see this now."

The Saudi Arabian Monetary Agency (Sama) lowered the repurchase rate to two per cent, the lowest since 2004, and the reverse repurchase rate to 0.25 per cent as the global credit crunch led to a slump in oil prices, crimping growth in the world's largest oil exporter. The government's $400 billion (Dh1.46 trillion), five-year spending programme and oil prices rebounding to around $75 a barrel from less than $35 in February are likely to boost growth this year.

Riyadh-based Samba Financial Group this month said the kingdom's economy will grow 3.7 per cent in 2010 from 0.15 per cent last year. Inflation has held around four per cent in the five months through November after accelerating to as high as 11 per cent in July last year.

Growth in 2009 was "not bad", Al Jasser said. "Put aside the oil sector, the rest of the economy continued to grow very comfortably. Nonetheless, 2010 should be even better because the fiscal stimulus seems to be still there" and in the course of the year the global economic recovery should "reduce uncertainty for investors in Saudi Arabia".

Saudi Arabia's benchmark Tadawul All-Share Index rose 27 per cent in 2009 and gained another 2.8 per cent this year. The Bloomberg GCC 200 Index of companies in the six Gulf Co-operation Council states increased 10 per cent last year, while the MSCI Emerging Markets Index, a gauge of

22 developing countries, surged 75 per cent.

Businesses operating in Saudi Arabia may still struggle to get credit as foreign banks remain reluctant to lend and local banks do not have the resources to finance large projects, Samba, the kingdom's second-largest bank, said in a report on January 18.

Bank lending in the Arab World's biggest economy slowed following the financial market turmoil and the default of two Saudi family conglomerates, Ahmad Hamad Algosaibi & Brothers and Saad Group. Eighty banks, including BNP Paribas and Citigroup, are owed at least $15.7bn, sparking a flurry of litigation.

In spite of the crisis, there was an "absolute increase" in lending last year, said Al Jasser, a former executive director for Saudi Arabia at the Washington-based International Monetary Fund.

Lending to the private sector increased about one per cent last year after soaring in the previous three years, Al Jasser said.

"In 2010, as the economy picks up and confidence in the global recovery improves, the private sector will go back to investing more than it did in 2009," Al Jasser said. "Lenders will feel more confident about their clients because they know after the crisis who proved to be more robust."

He said yesterday that world governments need to keep up their stimulus spending through 2010 to avoid a double-dip recession.

"At this time I don't think it's the time to curb spending. It could lead to another dip in the world economy," Saudi Finance Minister Ibrahim bin Abdul Aziz Al Assaf told the Global Competitiveness Conference, an annual gathering of Saudi and world businessmen in Riyadh.

"2010 is a year in which we need continuous stimulus spending," he said.

World governments pumped hundreds of billions of dollars in stimulus packages in the wake of the global financial crisis in late 2008 and many maintained higher spending levels last year.

The three-month Saudi interbank rate rose to 0.77 per cent on Saturday after dropping to as low as 0.64 per cent on June 21. The rate reached a 2008 high of 4.66 per cent. Saudi Arabia, whose currency is pegged to the dollar, has tended to follow the U.S. Federal Reserve in setting rates. "We also have some room to manoeuvre between their monetary policy and ours, and this was shown during the last boom and bust of the business cycle," Al Jasser said.

"We have moved before them and we have moved after them, so it's not one-to-one correspondence."

Four of the Gulf Co-operation Council's six members last month announced the creation of a Monetary Council, a step toward establishing a shared currency. The board of the council, which will set a timetable for establishing a joint central bank and choose a currency regime, includes representatives from Kuwait, Saudi Arabia, Bahrain and Qatar. Oman and the UAE. have opted out of the project.

"I do not think that we should apply any unnecessary pressure" on countries to rejoin the project, Al Jasser said. "But I think the GCC scheme of economic integration will bring everybody into the fold as we move forward. I'm very optimistic of that."

He said Saudi Arabia will allocate $70bn for development this year and the kingdom will continue to pump money to boost growth in 2010, even as the economy rebounds from last year's stagnation.

"At one point there will be a curbing of spending, but in my view 2010 is a year that needs continuous stimulus to the economy," Al Assaf said yesterday at the Global Competitiveness Forum.

Saudi Arabia expects growth of more than four per cent in 2010, the finance minister said. The country's economy expanded 0.15 per cent in 2009, according to Ministry of Finance estimates.

Al Jasser said stimulus packages should not be withdrawn prematurely, nor should they be extended more than required so as not to produce inflationary pressures.

He said the kingdom will issue its first mortgage law in the next few months, boosting the real estate industry and allowing banks to diversify their balance sheets.

"I'm optimistic that in the next few months, the law will be issued," Al Jasser said yesterday in an interview in Riyadh. "It will be a qualitative jump in the way we finance housing in the country and in the way we use financial instruments that are linked to the housing market."

Saudi Arabia's property market is suffering from a shortage of housing units, shielding the kingdom from corrections in the real-estate markets of other Gulf Arab states, Banque Saudi Fransi said in a report January 13.

The Shariah-compliant legislation which has been discussed for the past two years will consist of five parts, Al Jasser said.

It will define the terms of mortgages, how they are designed, how they are granted, how companies are licensed and how procedures will be enforced. The law is on the way to the council of ministers before going to the Shura Council, the country's consultative assembly, for final approval, he said.

"We expect demand for new housing will continue, steered by the indigenous population," John Sfakianakis, Riyadh-based chief economist at Banque Saudi Fransi said in the report. "In most areas of the kingdom, a shortfall in the number of housing units available persists, which has placed upward pressure on consumer price inflation in the past two years."

"Hopefully, the mortgage law will ensure the production of sufficient sukuk and corporate bonds that will be held by banks in lieu of government bonds," Al Jasser said, when asked whether the government planned to issue longer maturity bonds.
Keep up with the latest business news from the region with the Emirates Business 24|7 daily newsletter. To subscribe to the newsletter, please click here.
Follow Emirates 24|7 on Google News.