Saudi demand for credit hit by global slowdown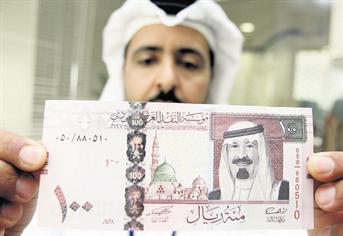 Demand for credits in Saudi Arabia has started to slow down as the domestic economy continued to suffer from uncertainty because of the adverse impact of the global financial crisis, Saudi data showed yesterday.

Demand for both corporate credit and consumer loans has been hit by the crisis although more funds are now available for the Gulf country's 12 banks following a government decision to ease curbs on lending.

As inflation started to ease and a global credit crunch began to bite into the region's financial systems, the Saudi Arabian Monetary Agency (Sama), the country's central bank, has taken a series of measures to ensure more liquidity for banks, including cuts in the repo rate, the rate it charges for lending to commercial banks in the world's oil superpower.

The rate was cut to two per cent from 2.5 per cent in January while the reverse repo rate, the rate Sama pays for deposits, was slashed to 0.75 per cent from 1.5 per cent, the lowest repo rate since mid 2004 and an all-time low for the reverse repo rate, according to Saudi bankers.

Another way the government has made more funds available for banks to lend is by reducing commercial bank reserve requirements, which set the proportion of their assets that banks have to place with Sama.

Reserve requirements for current accounts were cut in October and November by a total of six per centage points to seven per cent.

In response, data for December shows that bank deposits at Sama in excess of the statutory requirement (and therefore available to lend) leapt to around SR41.1 billion (Dh42bn) from only SR0.9bn in October.

In addition, deposits by independent government organisations (such as the state pension funds) in the banking sector rose by SR15.4bn in December.

"To date, official efforts to encourage banks to increase lending are helping. While some banks remain highly risk averse, credit is now readily available from others within the Kingdom, though generally priced at a much higher spread over interbank rates than in the recent past," the Riyadh-based Jadwa Investment Company said in a study sent to Emirates Business.

"Although the lending environment has improved, uncertainty among the private sector about the health of the economy is affecting the demand for credit. Lending by Saudi banks to the local private sector fell by 1.1 per cent in December, the first monthly decline since January 2007.

It said an indication of how the tough financial and economic conditions are affecting local companies can be gained from data on letters of credit (companies open letters of credit with banks to finance imports).

"The total value of letters of credit opened hit a near two-year low in December and those for building materials and machinery slumped to a near three-year low. Letters of credit for motor vehicles, the largest single category, dropped to their lowest in over a year and some vehicle retailers are experiencing falling sales. Point of sales transactions data suggests a broader decline in retail sales."
Follow Emirates 24|7 on Google News.