Saudi inflation to drop to 6.7% as economy slows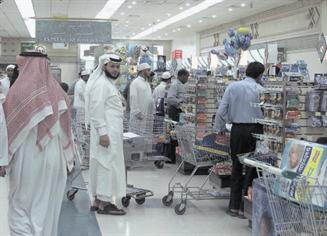 A sharp fall in global prices will ally with slower domestic economy to reverse fast-growing inflation in Saudi Arabia this year, a key Saudi financial firm said yesterday.

Inflation in the world's dominant oil power hit a record annual high of 9.9 per cent in 2008 but will likely fall back to round 6.7 per cent this year, the Riyadh-based Jadwa Investment said in its latest monthly economic report.

"The pace of the decline in the Kingdom's inflation that began a few months ago is set to pick up, as falling commodity prices and a strengthening of the riyal feed into consumer prices," the study said.

"Inflationary pressure from rents, the main source of inflation in the Kingdom, is also easing, though a shortage of accommodation will keep it high. As a result, we expect average inflation to decline to around 6.7 per cent this year from 9.9 per cent in 2008."

Citing official estimates, it said inflation fell to nine per cent in December, a 10-month low, adding that a drop in food price inflation to 11.3 per cent from 14.4 per cent in November was the main reason for the decline.

According to the International Monetary Fund, global food prices have plunged since mid-2008 by nearly 12.1 per cent. Although in some cases demand has slowed owing to the global recession, their decline is largely due to the alleviation of supply concerns that pushed prices very high in the first half of last year.

Jadwa said the outlook for the rest of the year is also encouraging as the IMF projects global non-fuel commodity prices to average 29 per cent lower in 2009 than last year. It noted that even if global food prices stay at their current level during 2009, they will average 24 per cent less than last year.

"Recent exchange rate moves point to lower imported inflation. The riyal has appreciated by eight per cent against the euro since the end of last year and is down by nearly 20 per cent against the euro since the end of June," it said.

"In addition, inflation is collapsing in many of the Kingdom's other major trading partners and is set to stay very low… the IMF projects inflation in developed countries at just 0.3 per cent this year. Furthermore, with oil prices $100 per barrel off their highs and the recession depressing trade volumes, transport costs have plunged; freight rates are only around 10 per cent of their mid-2008 peak."

The report showed rental inflation in Saudi Arabia fell below 18 per cent in December for the first time since April and has eased for five consecutive months. But it said that unlike food price inflation, rents are still rising strongly on a monthly basis by nearly one percent over the last three months.

"With a imbalance between demand and supply of residential units being slowly addressed, rents will remain the main source of inflation for years," the report said.
Follow Emirates 24|7 on Google News.