Saudi urges private sector to create jobs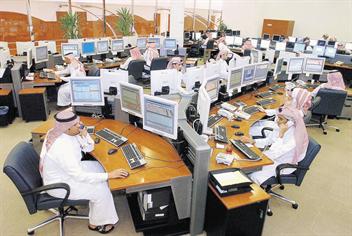 Saudi Arabia's private sector, the largest in the Arab world, needs to expand so it can absorb the swelling numbers of national job-seekers and tackle the Gulf kingdom's long-standing unemployment problem, a local bank said yesterday.

While the Saudi public sector has managed to absorb most of the Saudi employees over the past years because of its high growth, the private sector needs to step in and employ Saudis to reverse the deterioration in the kingdom's unemployment problem, Banque Saudi Fransi (BSF) said in a study.

"Boosting private sector involvement in Saudi Arabia's non-oil sectors is a crucial and necessary part of the kingdom's future expansion," the study said. "Growth in private sector GDP slowed to around 2.5 per cent in 2009 and while we foresee it climbing by a higher 3.7 per cent this year, it remains far from levels recorded in 2004-2007 that surpassed five per cent annually."

"Such lower levels of private sector expansion are not sufficient to keep up with the demands of an ever-expanding national labour workforce."

BSF's figures showed the Saudi government sector recorded better growth rates, accelerating to about four per cent in 2009 from 3.7 per cent in 2008.

"We expect that the growth rate will rise again this year to 4.1 per cent. The government has stepped in to keep the economy from avoiding a recession in 2009 and encourage growth momentum in 2010," BSF said.

"The public sector has absorbed a great deal of the new job entrants in recent years, but with the young Saudi population demographics the private sector will have to play its part. That the public sector is now the biggest employer for Saudis has averted a labour induced recession and a consumer depression in 2009."

The report noted that the public sector has offered what it described as enormous social protection for Saudis since private companies embarked on periodic layoffs, mainly of non-nationals, in 2009.

"This, however, does not absolve anyone from creating employment mechanisms for nationals in the private sector," the report said.

According to BSF, which cited government statistics, new entrants into the Saudi labour market stood at around 220,000 per year during 2004-2009.

While it had been anticipated that the number of employed Saudi nationals over this period would rise to 4.75 million from 3.5 million, by the end of 2008, the total Saudi employed labour force reached only 3.75 million, the report showed.

It cited a recent proposal by Saudi Arabia's Shura Council to pay out monthly allowances for young unemployed Saudis of at least SR1,000 (Dh979) per month until they find jobs. In January, Shura also approved a five per cent increase to pensions paid to retired public employees.

"These and other social welfare programmes will amplify the pressure on the government to keep public spending at historically high levels, underpinning the need to have the private sector shoulder more of the burden," BSF said.

"The signals are promising that conditions for the private sector to excel will improve through the course of 2010, although not exceptionally. According to our estimates, the kingdom's export revenues will rise 19 per cent this year and imports should gain 18 per cent in keeping with greater economic activity."

The report said recent letters of credit data also provide scope for cautious optimism, with private sector imports financed through commercial banks (settled LCs) rose to SR15.72 billion in December – the highest level of 2009.

New LCs, meanwhile, were 2.6 per cent higher than they were a year earlier, a good signal that appetite among businesses in general is improving.

"Creating an environment where SMEs are able to better tap bank credit is a vital part of reducing dependence on large family businesses," BSF said.

"With greater SME involvement, private sector growth momentum would not suffer as sharply from economic downturns as the one witnessed in the past year. Aside from credit allocations, SMEs, too, should modify their organisational and administrative structures to enable them to gain better access to credit. These longer-term goals are vital in shifting the balance of influence in favour of private sector participants."

Saudi Arabia, the world's top oil exporter, urged the private sector last year to shoulder its responsibility and support government efforts to find jobs for the fast-growing Saudi citizens.

Despite steady growth in its economy during the oil boom of the past eight years, Saudi Arabia is still reeling under high unemployment rates caused mainly by a rapid rise in its indigenous population, redundancy in the public sector and reluctance of nationals to take up private sector jobs.

The Kingdom rarely publishes unemployment data but widely varied local private estimates estimate the rate at between 10 and 25 per cent.

"Hopes and wishes will not tackle unemployment in Saudi Arabia and I again say that the sky will not rain jobs," Saudi Labour Minister Ghazi Al Qusaibi said last year. "Giving social aid to Saudis is also not a solution."
Keep up with the latest business news from the region with the Emirates Business 24|7 daily newsletter. To subscribe to the newsletter, please click here.
Follow Emirates 24|7 on Google News.