Smartphones to ring in new era in education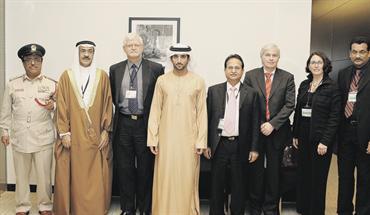 Smartphones – high-end mobile phones capable of multi-tasking – are the latest high-tech gadgets being suggested as an effective virtual learning platform for distance learning by analysts participating in a three-day annual e-learning forum at the Address Hotel in Dubai.

Organised by Hamdan bin Mohammed e-University under the Patronage of Sheikh Hamdan bin Mohammed bin Rashid Al Maktoum, Crown Prince of Dubai, the participants discussed, among other topics, the feasibility of using mobile phones as a distance-learning tool.

Analysts participating at the conference debated the potential use of smartphones as a learning tool for students, especially women students in countries such as Saudi Arabia and Iran.

Dr Mohamed Ally, Director and Professor, Centre for Distance Education, Athabasca University of Canada, will speak on the third day of the conference ,about using mobile technology for flexible access to learning materials from anywhere and anytime.
"The use of mobile learning will allow flexible access for employed people, people who live in remote locations, students, especially women who want to learn without leaving their communities, and young students who have mobile phones and are comfortable using the device," Ally said.

Dr Jafar Asgari Arani from the English Department of Kashan University of Medical Sciences, Iran, said research conducted among medical students found that mobile phones integrated with laptops are effective tools for English education as a complement to the face-to-face conventional education system followed in Iran.

Both students and teachers who participated in the research said they benefited from the use of mobile phones, which make learning more interesting and interactive. "Mobile technology is effective in overcoming many obstacles in current classroom methods," said E Granado W Colemenares, from the Simon Bolivar University, Venezuela. He gave a presentation on an application using the smartphones that allows students to operate physical laboratory equipment in real time through Bluetooth-enabled smartphones.

The "m-lab" project helps engineering students to also use equipment effectively and avoids heavy investment in setting up or expanding the university lab as the system allows students to share the same equipment with adjustable time schedules.

Barbara Burr, Director, Universitat Stuttgart, from Germany's Rechnzentrum Universitat Stuttgart, said Virtual Laboratories are gaining popularity in Germany where engineering education is expensive but popular.

"Companies are using virtual labs with a real lab metaphor to simulate real physical devices. This is gaining popularity for school students, and engineering and science education. It is better and cheaper than setting up expensive labs," she said.

Dr Mansoor Al Awar, Chancellor of the Hamdan bin Mohammed e-university, said e-learning will transform every aspect of business.


E-Learning Association Formed

On the first day of the conference a Middle East e-learning Association was formally launched as a regional non-profit association to enhance transparency and innovation in higher and continuing education.

Among other things, the association will conduct research on all aspects of e-learning adoption and its impact on the Middle East and North Africa, and disseminate findings. It will also create awareness about e-learning related issues and form partnerships with associations.
Keep up with the latest business news from the region with the Emirates Business 24|7 daily newsletter. To subscribe to the newsletter, please click here.
Follow Emirates 24|7 on Google News.