'This year is going to be challenging'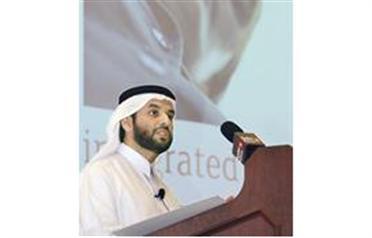 Globally, the year 2008 will be remembered for all the wrong reasons. Be it bankruptcies, bailouts or bad predictions, the financial landscape has been littered in the past 12 months with unwanted souvenirs.

Locally, businesses in real estate through to telecoms thought they had ducked the worst of the global meltdown.

But the last quarter of 2008 book-ended a boom period for the UAE and GCC countries on the back of record oil prices, and signalled a slowing of rapid and unprecedented economic growth.

As UAE decision-makers consolidate their positions, Emirates Business asked a cross-section of senior business figures how their businesses fared over the year and what were their action plans for 2009.


Real Estate

SAEED AHMED SAEED, CEO OF DEVELOPER LIMITLESS 

2008

"The global financial crisis has affected business across the world and we have had to adjust to the situation and work around it. Despite the challenges faced, we still reached a number of significant milestones, entering three new markets, securing new projects and making significant progress on developments.

Today, we live in a radically different world from the one we lived in 12 months ago. The last year proved that the world is far more interconnected than we ever imagined.

The global financial situation will have taught anyone in business that they are never immune. The last year has reinforced how having effective strategic planning, governance and risk management systems in place can make the difference between survival and failure."

2009

"Our focus for 2009 is to continue to strengthen our ability to respond effectively to global conditions. We face challenging times ahead and we know it will be a while before the world starts to hear more positive economic news. For Limitless, 2009 will be a year of responsible cost planning, forging strong partnerships and innovation.

I will be reminding my team that we must not allow ourselves to be pessimistic about the future. History has taught us that downturns don't last forever."


Media

ABDULLATIF AL SAYEGH, CEO OF ARAB MEDIA GROUP 

2008

"The real estate boom made the media sector in the UAE very relaxed over the past six or seven years. It brought us a lot of extra revenue that wasn't expected, and was a reason to establish new companies, magazines and very niche real-estate-oriented television. It had an effect editorially as well in that the industry didn't diversify, which was natural given that real estate was the driver for the economy – representing about 40 per cent of editorial focus.

AMG and the media industry as a whole have learnt in 2008 that no matter how the economy performs, we should not relax.

We have to focus on areas that were neglected because of the real estate boom."

2009

"There is a mental challenge going forward – a few sectors went numb over the past five or six years and did not invent or reinvent, or use any creativity to stimulate their sector. For example, the hotel sector registered almost nothing for media spend because occupancy levels were over 90 per cent for most of the year. It's a time for them to start thinking about how they will reinvent the sector."

Retail

EISA IBRAHIM, GENERAL MANAGER AND CHAIRMAN OF DUBAI SHOPPING MALL GROUP

2008

"The biggest hurdle for the year 2008 was the global economic financial crisis. What surprised me most was how things were bright and great in the first three quarters of the year and then the drastic and erratic turn of events in terms of the overall slide of business in the last quarter of the year.

As far as lessons the retail industry can learn, I feel that greed is the main killer. We should learn to work on calculated risks and learn to anticipate the worst and handle them of course."

2009

"This year is certainly going to be challenging. However, I feel that it is still doable if we work hard. I feel that this year is a good opportunity to redefine, reshape and to fine-tune our overall operations to keep our brand, market share, customers in place and to improve our image.

This year will start as a boom era. We have to move forward, work harder and cross the bridge. We're going to protect our business in the coming year by working harder and smarter."
Telecoms

AHMAD A JULFAR, COO OF ETISALAT 

2008

"Despite the financial crunch, we at etisalat have seen exponential growth in terms of market reach, customer base, services, and financial results. We have entered India and started operations in Nigeria.

The financial crisis caught everyone unaware. The scope, influence and the immediate effects were beyond expectations. We found it provides an opportunity for further expansion. The telecoms sector is strong and more immune against crises than other sectors. People are eager to accommodate state-of-the-art technologies and look for "what-is-next" in this sector."

2009

"We have a set of priorities that we carefully pursue. It includes maintaining our position as the region's leading telecom operator by focusing on the customers' needs and providing them with the best value-added services, solutions and most state-of-the-art technologies that extend their reach, thus bringing them the best customer experience.

Also, we need to follow our strategy of making use of rising opportunities and entering markets that have great potentials."


Transport

ABDUL REDHA ABU AL HASSAN, RTA RAIL AGENCY DIRECTOR 

2008

"Our main challenge was to solve the problem of congestion. There were a lot of projects the RTA oversaw that looked to address the traffic situation on the roads – some have been completed and some are ongoing.

"From a Rail Agency point of view, we are still on programme of achieving our milestones on the red and green Metro lines."

2009

"We need to re-programme ourselves according to the market now. It's not right that we spend money here and there on new projects without following the development in the city. Most of the developers have stopped their projects, so we have to study our programmes again, especially for the new ones underway.

Existing projects will go ahead and be finalised as planned, but for new projects we have to re-study our schedules so we can be with the areas' needs for transportation in rail.

This year will be tough for the world from a financial point of view. The Metro deadline is on track and financially we have no problem."


Stock markets

FADI AL SAID, ING INVESTMENT MANAGEMENT'S HEAD OF EQUITIES FOR MENA 

2008

"We launched our UAE operations in June, and since then we've been structuring a fund that will be domiciled in Luxembourg to invest in the Mena region. This fund was planned for October, but the markets were down so we took it easy. We launched it on December 3. Because we're new we did not face the same problems or bottle necks that other more established companies did.

In the past, companies were trying to grab whatever they could. They didn't focus on risk, just returns. Some companies invested in products even they didn't understand."

2009

"Our focus is to increase the size of our fund. It is going to be challenging to convince people to invest after a drastic year, but what makes a difference is if you can explain that there are opportunities behind the rubble. You may have to visit your client more and present more data. He will want to know about what his fund manager is doing.

From an equity point of view you have to differentiate between the performance of the market and what happens on the ground level."


New Media

SIM WHATLEY, CO-FOUNDER OF WEBSITE DUBIZZLE 

2008

"The biggest hurdle for us in 2008 has been people. The ability to find smart, ambitious, loyal, hard-working people is a hurdle for any business that is young and has an aggressive vision for conquering the world.

In 2008, we tripled our staff and our traffic. The biggest surprise for us was how resilient online advertising seems to be. To have a medium that allows such quantifiable results is a true lifesaver for any switched-on marketing manager. The lesson for every industry in these stringent times, and that you don't see much in Dubai, is to build loyalty and long term relationships with your clients."

2009

"We need to expand. We honestly do have the intention of world domination. Dubizzle will be in the rest of the UAE in coming weeks and from there we will begin to move outward. We are in talks with some other players in the market and in the process of developing Arabic capabilities.

Dubizzle, as a community, actually booms in a down market and as a business, we are expecting a similar result. 2009 will continue the growth for us that started in 2005."


Hospitality

TONY WILLIAMS, SENIOR VICE-PRESIDENT OF EMIRATES HOTELS AND RESORTS 

2008

"We faced a fairly steady and continuous increase of costs in the early part of the last year led by commodities and inflation. That challenge remains with us now, but with the reduction in fuel prices some of the costs of raw materials and transport are starting to stabilise.

In October and November our major supplier economies, UK and Europe, went into a slowdown. Banks were unable to provide people with additional credit facilities, and as many companies began tightening their belts, business travel was curtailed.

Hoteliers in Dubai became fairly complacent with year-on-year rate increases of up to 15 per cent over the past five or six years – and complacent that the demand is there. It got to a point where Dubai was pricing itself extremely high."

2009

"The first half of 2009 is going to be tough. We need to run a fine tooth-comb through our cost base and, with possibly lower occupancies than we expected, focus on our strengths and weaknesses. We must do this without compromising our service standard of course.

This year, there maybe a pause in the rapid opening of hotels and hospitality units, but we'll see many of these projects opening towards the end of 2009 into 2010."


Aviation

JAMES HOGAN, CEO OF ETIHAD AIRWAYS 

2008

"Not only was 2008 Etihad's fifth year of operation, it was also the year when the airline made its position clear as one of the industry's leading carriers by announcing a $43 billion deal for up to 205 aircraft.

The deal was made at a time when the global financial down-turn was just beginning and some carriers might have opted not to make such a bold order.

However, the business plan for Etihad is sound and based on award-winning services on the ground and in the skies, a growing flight network across the world, as well as the continued growth of our Abu Dhabi home-base as a leading global capital."

2009

"Undoubtedly, the global economic downturn will be the major issue facing the travel trade and therefore Etihad will continue to focus on controlling costs but at the same time ensure that our customer service remains consistently high.

The airline continues to perform extremely well in all markets despite the current economic conditions and against an industry backdrop that remains extremely difficult.

The company will continue to expand its flight network across the world during 2009, with new services to Melbourne and Lagos already confirmed and other destinations, which we expect to announce during the year."
Follow Emirates 24|7 on Google News.