Trade, tourism and financial sectors power Dubai's diversified economy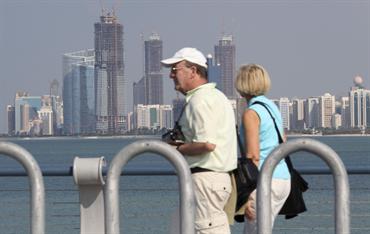 Heavy investments have allied with attractive incentives and policies to sharply boost Dubai's economy and depress the share of the oil and gas sector to a minimal level to emerge as the regional leader in diversification programmes.

From more than 30 per cent in early 1980s, the oil sector's contribution to Dubai's gross domestic product plunged to around 10 per cent in 2003 and dipped to just three per cent in 2008 to give way to other sectors.

Analysts said the sharp fall in the oil sector was accompanied by a steady expansion in non-hydrocarbon sectors and a decline in crude output because of the concentration of the emirate's investment drive on non-oil sectors.

"You can say that Dubai's economy is now the most diversified economy in the region as the oil sector's contribution of the GDP does not exceed three per cent," said Mohammed Al Asumi, a well-known Gulf economist based in Dubai.

"The steady decline in the oil sector's share of the GDP over the past years was a result of huge investments in other sectors, a government policy to encourage foreign investment. Dubai's economy is now a well diversified economy which is no longer reliant on volatile oil exports. We expect this trend to continue in the coming years and most non-hydrocarbon sectors will sustain growth."

Asumi said Dubai's debt could have only a temporary impact on the domestic economy, adding that there will be growth in many sectors in the medium term, including trade, transport and the financial sector.

His figures showed trade has become the dominant component of Dubai's economy, contributing nearly 30 per cent of its GDP. He estimated contribution by the tourism and financial sectors at around 20 per cent each. The non-oil sector has become the wheel of Dubai's economy and the emirate no longer needs to worry about persistent fluctuations in the oil market," he said.

"Dubai has presented a very rare Arab experiment in attracting foreign investment, which is concentrated in services, industry, real estate and tourism. Its free trade zone has been a major factor in luring in foreign capital given the impressive incentives it offers, including a 100 per cent ownership compared with other GCC countries, Dubai is far ahead in attracting capital as foreign direct investment relative to its GDP."

Dubai, dubbed as the Gulf commercial and financial hub, controls around five billion barrels of oil reserves and its production has steadily receded over the past decade as the emirate shifted its attention to development of other sectors. But the decline has largely been offset by the steady expansion in other sectors and establishment of major projects that provided a stable and reliable source of income. They include the Jebel Ali free zone, Emirates Group, the Dubai Drydocks and Dubal's aluminium plant, among the world's largest smelters.

Figures by the Ministry of Economy showed Dubai's economy has recorded the highest growth rate in the country and one of the highest rates in the world over the past 15 years despite a steady fall in the oil sector.

From just around Dh32.08bn in 1992, the emirate's nominal GDP jumped by more than nine times to nearly Dh301bn in 2008 to emerge as the second largest economy in the UAE after Abu Dhabi, the main oil producer. This means Dubai's nominal GDP raced by around 56 per cent during that period.

In real terms, growth was estimated at around 43 per cent as the real GDP skyrocketed from around Dh23bn in 1993 to Dh172bn last year.

During the oil boom of the past seven years, the UAE's real GDP grew by an annual average of around 14.8 per cent, one of highest growth rates in the world, mainly because of high spending triggered by strong oil prices.

Dubai's real GDP jumped by nearly 21.9 per cent during that period, far above the country's average growth. From Dh68.13bn in 2001, Dubai's real GDP expanded to about Dh172.7bn in 2008.

The emirate's GDP last year was lower than its level of around Dh173.6bn in 2007 due to a sharp contraction in its real estate sector and a slowdown in trade in the last quarter because of the global financial crisis.

Officials expect the emirate's GDP to slip this year in line with forecasts about a contraction in most regional economies because of the global credit tightness, slackening domestic demand and lower crude output by key producers.

According to Sami Al Qamzi, Director-General of the Dubai Economic Development Department, the emirate's real GDP could drop by around two per cent but is expected to rebound by 2-3 per cent in 2010 and five per cent in 2011.

"Dubai's economy shrank by only around 1.47 per cent in the first half of 2009 and is expected to contract by just two per cent through the year. This is in sharp contrast with pessimistic forecasts about a 10 per cent decline," he said.

"The industrial sector grew by nearly 5.9 per cent while there was a growth of 9.1 per cent in the financial services sector in the first half of this year as for the real estate and construction sector, there was a decline but our expectations are that the emirate's total GDP will grow next year. The continued growth in most other sectors will spur domestic demand and keep growth in the real GDP, which in turn will stimulate demand in the real estate and other sectors."

Experts attributed Dubai's high growth during 2001-2008 to big leaps in its construction and real estate sector, as well as a surge in trade, tourism, industry and other sectors that were stoked by high public and private investment. High real GDP growth allowed Dubai to maintain its position as having the lowest unemployment rate in the UAE despite a steady rise in its population.

The ministry's report showed the unemployment rate in Dubai stood at around 2.4 per cent in 2008 against a UAE average of nearly four per cent.

The rate has remained low despite high growth in the emirate's population, which swelled by around 126,000 to 1.722 million in mid 2009 to become the largest populated emirate in the UAE after overtaking Abu Dhabi for the first time.

The report also showed Dubai has pumped around Dh180bn in fixed capital formation [investments] during 2001-2008 to emerge as the second largest investor in the UAE after Abu Dhabi.

The investments climbed to their highest level of around Dh44.6bn in 2008 despite the eruption of the global financial distress and accounted for nearly 37 per cent of the UAE's total fixed capital formation of Dh121 billion.

The investments pumped by Dubai during 2001-2008 far surpassed its capital formation of around Dh130 billion during 1993-2000, according to the report.

The figures showed Dubai was also the second largest investor in the non-oil industrial sector but it had the largest manufacturing units at the end of 2008.

Industrial investment in Dubai has steadily increased over the past years as the emirate stepped up a drive to attract capital and expand the manufacturing sector within its ongoing economic diversification programme.

From around Dh14.3bn in 2003, such investments surged to a record high of about Dh18.9bn in 2008. They accounted for around a third of the UAE's total industrial investment of Dh77bn in 2008.

By the end of 2008, Dubai had 1,718 manufacturing units, more than a third of the UAE's 4,219 factories. The report showed nearly 700 factories were built in Dubai during 2003-2008, an average 130 units a year.

Basic metals emerged as the main recipient of investments in Dubai, attracting around Dh6.3bn. It was followed by non-metallic mineral products, with investments of around Dh4.15bn and food, beverage and tobacco, which received nearly Dh2.32bn. Other key sectors were machinery and equipment, with around Dh2.47bn and chemicals, with Dh1.94bn.
Keep up with the latest business news from the region with the Emirates Business 24|7 daily newsletter. To subscribe to the newsletter, please click here.
Follow Emirates 24|7 on Google News.