UAE plans to execute projects worth $918bn: IMF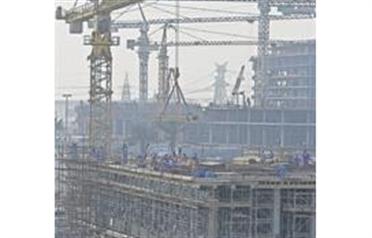 The UAE has plans to carry out projects worth a staggering $918 billion (Dh3.36 trillion) in oil and gas, petrochemicals, real estate, industry and other sectors, according to the International Monetary Fund (IMF).

The value accounts for nearly 42 per cent of the total major enterprises to be implemented by the six-nation Gulf Cooperation Council (GCC) in the medium term as part of a strategy to diversify their oil-reliant economy and upgrade their infrastructure, the Washington-based IMF said in a study.

The focus of the projects in the UAE is the real estate sector as the country is striving to tackle a festering housing supply bottlenecks that has been cited as one of the main reasons for soaring inflation.

But other sectors are also getting massive investments, mainly petrochemicals and industry, as the UAE is also trying to diversify its sources of income.

The investments in the UAE include nearly $607.4bn for real estate while around $137.5bn would be pumped into infrastructure projects, and $72bn into oil and gas as the country is pushing ahead with a major programme to expand its hydrocarbon output capacity to meet demand.

The other projects cover around $66bn for electricity and water, $20bn for non-oil industry and nearly $13.6bn for petrochemicals.

"The investment profile of GCC countries reflect country-specific diversification strategies, although projects are generally geared toward addressing supply bottlenecks, diversification and employment generation," the IMF said. "With the emergence of inflation as the main short-term macroeconomic challenge, large investments are being channelled to the housing and infrastructure sectors to reduce supply bottlenecks and expand capacity."

A breakdown showed Bahrain and Oman are focusing on attracting more tourism, while the UAE is concentrating on real estate and services and Saudi Arabia on infrastructure development. Kuwait and Qatar, as well as Saudi Arabia, are maximising synergies through hydrocarbon-related investments.

The report put the total GCC medium-term project investments at $2,193bn, including nearly $960bn for real estate, $430bn for infrastructure, $421bn for oil and gas, $175bn for electricity and water, around $142bn for petrochemicals and $65bn for industry.

Saudi Arabia emerged second to the UAE, with planned investments of around $632bn, followed by Kuwait, with nearly $270bn. The value of projects was put at $214bn in Qatar, $114bn in Oman and $44bn in Bahrain.
Follow Emirates 24|7 on Google News.