UAE set to grow 2.5% this year, nominal GDP to reach Dh927.2bn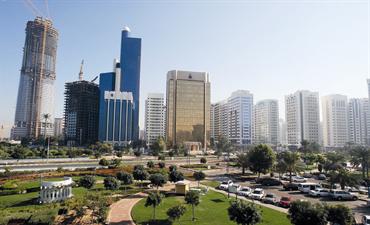 The UAE will post a real GDP growth of 2.5 per cent year on year (YoY) in 2010, a Dubai-based investment bank has said in its new report titled UAE Vision 2010.

"We forecast a nominal GDP growth of 10.3 per cent YoY this year, to reach Dh927.2 billion," investment bank Shuaa Capital said in the report.

Abu Dhabi will be the main contributor to the UAE's growth, as oil output recovers (three per cent year on year hydrocarbon growth) and the non-oil sector is supported by government investment and spending, Shuaa Capital said. "We expect real GDP growth in Abu Dhabi of 4.1 per cent YoY in 2010, up from -2.7 per cent YoY in 2009. Abu Dhabi's nominal GDP is forecast to reach Dh457.3bn in 2010, up almost 14 per cent YoY," the Shuaa Capital report said.

The nominal GDP of Dubai will rise 0.6 per cent this year. "We expect Dubai's economy to contract 0.4 per cent YoY in 2010, an improvement on the five per cent YoY contraction we estimate for 2009, as the key construction and real estate sectors continues to be a drag on growth in the emirate. Our estimate for 2010 nominal GDP in Dubai is Dh299.8bn, up 0.6 per cent YoY," the financial institution said.

Inflation in the UAE will remain contained at 0.7 per cent, it said. "A silver lining of the 2009 economic slowdown has been the sharp drop in inflation across the UAE, as pressure on housing prices ease in Abu Dhabi and rental prices decline in Dubai. We expect inflation to remain contained at 0.7 per cent YoY for the UAE as a whole in 2010, from an estimated 0.5 per cent YoY in 2009 and well below the 2008 high of 14.9 per cent YoY."

The monetary policy of the UAE Central Bank has successfully stabilised the banking system in the UAE, although banks appear to be more risk averse in their lending, Shuaa Capital noted. "Total credit growth slowed down to 3.5 per cent in the first eight months of 2009, and most of this has been absorbed by the public sector (government and official entities).

Although we do expect some recovery in private sector credit growth, this depends to a large extent on the successful resolution of Dubai World's debt restructuring," Shuaa Capital said.

UAE's fiscal policy is likely to remain expansionary to support non-hydrocarbon growth in 2010. "The recovery in oil prices (we have conservatively assumed an average oil price of $70 per barrel for 2010) and output this year should result in consolidated surplus in the region of six per cent of GDP, higher than the surplus of 4.1 percent of GDP we estimate for 2009," the report said.

The Gulf country's external balances, which have been good for the past several years, will improve this year as well, the report said. "Based on our conservative oil price assumption, we expect a current account surplus of 4.3 per cent of GDP, up from three per cent of GDP in 2009," the report said.

Shuaa Capital said its macroeconomic outlook is based on the assumption of a market-friendly resolution of Dubai World's debt restructuring and no further debt issues in Dubai. "We expect the Dubai Government to pass legislation to improve the reporting of GREs financial positions and activities to the budget, to increase transparency and internal controls," it said.

Financial markets

Financial markets in the country are exhibiting a positive bias for 2010 that is highly dependent on how things will play out on the international front. "We believe that the correction which began in October provided room for short and medium-term upside potential to unfold but the UAE markets remain highly susceptible to the potential weakness in the global equity and commodity markets," Shuaa Capital said.

UAE financial markets may catch up with their global counterparts, Shuaa Capital observed, adding that the uptrend will depend on how the oil prices fair (Kuwait-based Markaz had earlier said that there is a correlation between all the GCC financial markets and oil prices).

"The lag between the UAE and global indices since October 2009 implies a probable catch-up play by the UAE markets over the coming months. However, this view is highly dependent on the sustainability of the rally in the US and oil markets – an event to which we attribute a great risk," Shuaa Capital noted.

Once the Dubai World's debt restructuring negotiations are over, and assuming a relatively investor-friendly outcome is reached, the appetite for primary issuance will be restored in the country, Shuaa Capital said.

"After almost a year and half of absence of IPOs, we expect 2010 will see the resurrection of initial public offerings in the country. However, we believe the size of these offerings will be smaller than most issuances we saw in 2008 and significantly smaller than the record-size offerings we saw in 2007. We also believe debt issuances (post-Dubai World debt issues are resolved) will continue to play a key role and their presence will be noticeable."

Banking

Shuaa Capital expects 2010 to remain a difficult phase for UAE banks. The financial company said that the economic recovery that it forecasts does not mean the end of the regional liquidity shortage, nor the improvement of asset quality metrics.

The financial company's outlook on banks was based on assumptions that the aggregated customer deposits will grow by eight per cent in 2010, resulting in an Dh 84bn net liquidity addition for the year. "In our view, this will be matched by a slower six per cent growth in lending as we suspect banks to remain selective in their lending policies," Shuaa Capital said.

Non-performing loan (NPL) levels will rise sharply in the first half of 2010, especially if the recent Central Bank's recommendation on NPL classification is adopted, the financial institution said. "We expect NPL ratio to reach six percent by June-end and up to eight per cent by year-end, reflecting sharper asset quality deterioration in the first half of next year. This will be matched by a net increase in provisioning, hence constraining bottom line growth," the report noted.

"While growth in assets will be limited, net interest margins will undoubtedly be under pressure after the staggering levels reached in 2009. The difficult access to liquidity aggravated by the deteriorating risk profile of the UAE is expected to put further strain on funding costs," the report said.

Operating expenses of banks will remain under control in order to optimise cost structure in face of falling revenues, it noted. "In the end, and while we estimate banks' net earnings to fall by 15 per cent by 2009-end, we expect them to only recover by eight per cent to 10 per cent in 2010 (representing a mild recovery from a low base). This figure will widely vary among UAE banks with Abu Dhabi players being on the higher side of the bracket, with the exception of a more troubled ADCB," the financial company noted.

Telecommunications

Population growth will cease to be a driver of the telecommunications sector in 2009, the report noted. "Mobile data and other value-added services, broadband internet, triple-play services through fibre-to-the-home will be the growth drivers of the sector," it noted.

Since 2007, the UAE mobile phone sector is fully competitive, Shuaa Capital said. It added that in 2009, it foresaw more competition for fixed services.

"Infrastructure sharing is on the agenda, with a gradual implementation expected in the second half of 2010, which will allow operators to compete in each others territories for fixed services," the financial institution said.

UAE's Telecommunications Regulatory Authority (TRA) is expected to unveil soon a VoIP (voice over internet protocol) policy. The two existing players will benefit well when VoIP is introduced, Shuaa Capital said. "We believe that the TRA will allow VoIP services only through the two licensed telecom operators, and not through other players such as Skype. This will allow both etisalat and du to offer their customers VoIP plans for international long distance calls at a slight discount to current rates."

Affirming that there will not be any changes in the fundamental structure of the UAE telecom market in 2010, the report said that the telecom markets in the country will remain attractive for investors.

"We expect the UAE telecom sector to remain a two-player market for the foreseeable future. We don't expect a third mobile operator anytime soon. The UAE telecom sector will remain attractive for investors as one of the few remaining duopolies. We don't expect a change in foreign ownership rules in UAE telecom sector in 2010. We don't expect a change in etisalat's 50 per cent royalty rate in 2010."

The UAE telecommunications sector as a whole will witness a mid-single digit growth in 2010, Shuaa Capital said.

"The UAE telecom sector will deliver another year of mid-single digit revenue growth in 2010. Specifically, we forecast etisalat's UAE operations to achieve low single digit revenue and earnings before interest taxes depreciation and amortisation (EBITDA) growth. On the other hand, we project du to deliver 18 per cent revenue growth and 38 percent EBITDA growth," the investment bank said.

Key risks in 2010

Shuaa Capital identified a correction in global markets led by the United States and a correction in oil prices as the key risks for the UAE financial markets in 2010.

"The US markets have witnessed an uninterrupted rally since March 2009 and the recent signs of exhaustion indicate that a corrective wave will likely unfold in 2010. Being the largest market in the world, we expect such an event to take a negative toll on the UAE markets," the report noted.

"Similarly, the strong rally in oil since early 2009 has been a key driver in last years' rise in the local indices but with oil currently approaching extended levels, the probability of witnessing a correction is getting increasingly higher. Needless to say, any weakness on that front is expected to have a strong negative impact on the performance of the local markets in 2010," it added.

Shuaa Capital went on to take a cautious approach to 2010 and said that the markets currently stand on unstable ground with many risks jeopardising the argument for sustainable upside in 2010.

The Shuaa Capital report set a resistance of 2100 for the Dubai Financial Market General Index (DFMGI) and 3000 for the Abu Dhabi Securities Exchange General Index (ADXGI).

"The positive bias towards the UAE markets in 2010 is highly dependent on the ability of the indices to break above the resistance levels (specified above) as well as the capacity for the US and oil markets to sustain their current rallies. That said, we should note that the probability of these risks materialising is high, indicating that the UAE markets will unlikely end 2010 above last year's peaks," the Dubai-based financial institution noted.
Keep up with the latest business news from the region with the Emirates Business 24|7 daily newsletter. To subscribe to the newsletter, please click here.
Follow Emirates 24|7 on Google News.