UAE urges international co-operation to face crisis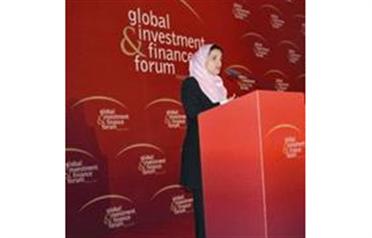 The UAE used an international investment meeting in Moscow yesterday to urge all countries to join hands in dealing with the global financial crisis.

Minister of Foreign Trade Sheikha Lubna Al Qasimi said the global economic turmoil has affected all nations, adding that the UAE had been quick in taking counter measures by supporting its financial system.

"Instead of just watching the situation unfold, there should be serious, fast and actual movements toward a maximum degree of co-operation at the global level in order to control the financial crisis and its implications. More research also needs to be done to reveal opportunities offered by the crisis," Sheikha Lubna told the second global investment and finance forum in Moscow.

She said despite the crisis, the UAE continues to maintain its status as one of the most dynamic and interactive economies in the world and that its developmental experience serves as a model of economic growth.

"The UAE has taken several rapid and practical steps to cope with the implications of the financial crisis. The government guaranteed bank deposits and offered substantial financial facilities to banks amounting to $32 billion [Dh120bn] in the fourth quarter, boosting confidence in the country's economy and confirming the ability of the UAE to deal rapidly, immediately and positively with the latest economic developments," she said in a speech, sent by the ministry to Emirates Business.

Sheikha Lubna noted that the UAE remains an "attractive and major commercial hub for foreign investment", referring to the dozens of free trade zones and specialised industrial cities that provide unlimited facilities to foreign investors in terms of both business and enterprise ownership. "Although the UAE is one of the largest producers and exporters of oil in the world, it is eager to diversify its income sources and expand its economic base, as the various economic and trade sectors are full of unlimited investment opportunities, particularly in the industrial, tourism and real estate fields," she said.

Regarding ties with Russia, she said the UAE is seeking stronger co-operation with the country, mainly in trade, investment and economy.

She said Russia offers numerous investment opportunities, as it seeks to develop its infrastructure and has allocated an estimated $200bn for road projects and infrastructure. "This increases the country's investment attractiveness and encourages foreign capital," she added.

Her figures showed the value of the UAE private sector's investments in Russia stood at about $3.5bn, while Russian investments in the UAE are estimated at $4bn. Sheikha Lubna noted that the UAE's main exports to Russia are aluminum and petrochemical products and processed food, while its imports comprise timber, building materials and some petrochemical products.

"The UAE is keen to expand trade and economic ties with the Russian Federation, particularly in the development of infrastructure projects and roads," she said.
Follow Emirates 24|7 on Google News.