UAE women strengthen role in job market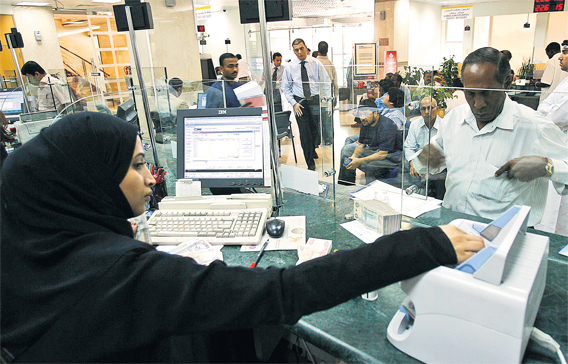 UAE women have sharply expanded their role in domestic development as they step up their push into the labour market, buoyed by recurrent statements by the country's leaders that they should play a more active role in the economy.
From a minimal contribution when the UAE was created nearly 39 years ago, native women now constitute a key component of the country's workforce and their share is projected to swell further in the future.
From less than three per cent in early 1970s, the women's share of local jobs in the seven emirates surged to around five per cent in 1980 and continued to rise to reach 9.6 per cent in 1985, according to the UAE's Ministry of Economy.
Their share further expanded to around 11.7 per cent in 1995 and 13.5 per cent in 2006. It stood at 13.6 per cent in 2007 and was expected to have exceeded 14 per cent in 2009, the Ministry said in a recent report.
"I am sure you will see a further rise in the coming years as the UAE is easing social barriers and allowing women to get the sort of jobs that have been a taboo just a few years ago," said an Abu Dhabi-based social expert.
"What supports my view is the fact that hundreds of UAE women are graduating every year from the universities and colleges. They are now getting education easily and are ready to contribute actively to their country's development. They have proved their efficiency and I think we are going to see more achievements."
The ministry's data showed all emirates had made headway in the employment of women. Ras Al Khaimah had the highest female share of the labour force with 19 per cent, while Ajman had the lowest ratio of 11.5 per cent. At the end of 2008, nearly 2.74 million were employed.
Experts said the steady rise of the number of women joining the labour market was one of the main reasons for the high unemployment among male nationals.
"Many UAE men can not find jobs because too many jobs have been taken up by women, mainly in the public sector, which has become almost redundant," one expert said. "This phenomenon has cut unemployment among UAE women but increased it among men. Of course, there are other factors for the high joblessness among men, mainly their reluctance to join the private sector."
A breakdown showed the women's share of the labour force stood at 15.6 per cent in Abu Dhabi and 12.5 per cent in Dubai. Both emirates, the largest and wealthiest members of the UAE, had made substantial progress in providing jobs to women as their share was relatively low 25 years ago.
In recent comments, a UAE official said unemployment among nationals has reached a record high of more than 40,000 people.
Abdullah Al Awadi, a former consultant at the National Human Resources Development and Recruitment Authority (Tanmia), said the surge in the local unemployment rate was a result of a rise in female workers, a continuous influx of expatriates and obstacles in the implementation of job nationalisation plans. The UAE and the other members of the GCC have been locked in a long-standing campaign to employ local women as part of an overall strategy to nationalise jobs and ease reliance on foreign labour.
Most of them have made progress but it has been slow, mainly because of the lack of skilled native manpower and the presence of social curbs on recruitment of women.
A recent study about Saudi Arabia said the global crisis is expected to prompt GCC states to intensify plans to give women a greater role in the domestic economy with nationalisation programmes.
Keep up with the latest business news from the region with the Emirates Business 24|7 daily newsletter. To subscribe to the newsletter, please click here.
Follow Emirates 24|7 on Google News.