UK economy to shrink 4-6% in mid-2009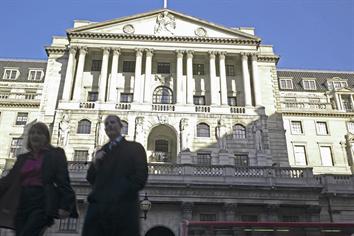 The Bank of England said yesterday that the recession-hit British economy was set to shrink by four to six per cent in the middle of 2009 from the level 12 months earlier, and return to growth in early 2010.

The Bank of England Governor Mervyn King said the UK is in a "deep recession" and pledged to cut interest rates and increase the supply of money in the economy.

"Further easing in monetary policy may well be required," said King at a press conference in London after presenting the central bank's revised quarterly forecasts. "That is likely to include actions aimed at increasing the supply of money in order to stimulate nominal spending."

The Bank of England's forecasts show the economy will contract at an annual four per cent rate by the end of the first quarter and inflation will slow to 0.5 per cent at the end of next year.

Bank of England policy makers cut the benchmark interest rate to the lowest ever on February 5 and may start buying corporate debt in the next few days as they seek other ways to aid the British economy. Cabinet Minister Ed Balls said this week that the government faces an economic crisis worse than the Great Depression of the 1930s.

"Given its remit to keep inflation on track to meet the two per cent target in the medium term, the projections published by the committee imply that further easing in monetary policy may well be required," said King.

Meanwhile, unemployment in Britain rose by 146,000 to 1.971 million in the three months to December, the highest level since 1997, but short of analyst forecasts that it would breach the two million figure.

The unemployment rate, according to the International Labour Organisation (ILO) measure, was 6.3 per cent, the highest since 1998, figures released on yesterday showed. Experts said the outlook for the job market remained bleak at a time when Britain was in deep recession.

The unemployment total is the highest since the Labour Party took power 12 years ago, underlining the growing political pressures on Prime Minister Gordon Brown,who lags well behind the opposition Conservatives in the polls.

"The two-million mark is coming up and realistically going into 2010 it will probably be the three million mark that becomes more relevant," said Mark Miller, an economist at HBOS.

The Office for National Statistics said the claimant count jobless measure rose by 73,800 to 1.233 million in January, the highest since July 1999, and a rate of 3.8 per cent.
Follow Emirates 24|7 on Google News.