Venezuela devalues bolivar to boost growth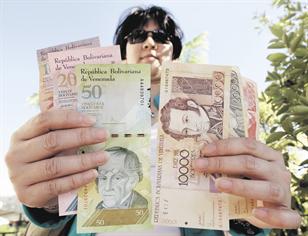 President Hugo Chavez devalued Venezuela's bolivar currency, attempting to resuscitate local production but running the risk of worsening inflation in the South American oil-exporter's flagging economy.

Facing a recession and galloping prices in the 11th year of his presidency, Chavez had long been pressured by business for an adjustment of the over-valued exchange rate, but was not expected to make the move so close to an election. Venezuela votes for a new National Assembly in September.

The move will likely boost the state's bolivar revenues from oil and help local exporters, but add pressure on prices, which soared 25 per cent in 2009, the highest in the Americas.

The bolivar had been fixed at 2.15 to the dollar since 2005 as part of Chavez's strict controls of Venezuela's economy in line with his "21st century socialism" policies.

But Chavez, in a live address on state TV, said the bolivar would now have two levels – a preferential rate of 2.6 per dollar for essential imports like food, health and machinery and a 4.3 "petro-dollar" rate for other things.

"This has several objectives, to revive the productive economy, strengthen the Venezuelan economy, slow imports that are not strictly necessary and at the same time stimulate production for exports," he said. "Veneuela has to be a country which exports more than just oil."

Widely considered to have been overvalued for several years, the bolivar also trades on a tolerated parallel black market and will continue to do so.

Ahead of Friday's announcement, the bolivar weakened during the day from about 5.90 to 6.10 to the dollar in parallel trade, on the rumors of a devaluation.

Chavez, whose self-styled revolution since coming to power in 1999 has sharply polarised Venezuela's 28 million people, hopes to stave off an opposition effort to overturn his majority in the September vote.

The devaluation could stoke social tensions and weigh on his ratings, now at about 50 per cent.

Asked how the devaluation would impact inflation, Venezuelan Finance Minister Ali Rodriguez told state TV it could add "three to five" percent to the annual rate. It was not clear if he meant percentage points.

Local economists said the main risk from the devaluation was further price pressures. "Among the disadvantages is the inflationary effect," said Pavel Gomez, of local business institute IESA.

But the government hopes the inflationary impact of the devaluation will be offset by subsidies to food and gasoline prices, provision of some free services including health clinics, and frequent increases to the minimum wage. At the 4.3 per cent rate the bolivar is 50 per cent weaker, while the 2.6 rate represents a devaluation of 17.3 per cent.

Venezuela last devalued its currency in 2005, to 2,150 bolivars per dollar from 1,920 bolivars. In 2008, it re-denominated the currency, lopping off three digits.

Venezuela's economy is estimated to have shrunk 2.9 per cent in 2009, and officials are hoping for moderate growth at the very best this year. "When you depend on oil and you keep increasing spending on social programs and you hold the exchange rate at that level, you are clearly going to have monetary and fiscal deterioration," a New York-based source at a major global bank said just before the devaluation as rumours grew.

"Maybe he didn't want to do this sooner because he doesn't want to show weakness," the source said.

The devaluation will affect neighbouring Colombia's economy, already hit hard by diplomatic strife with Venezuela as Chavez has clamped down on bilateral trade in protest over a military cooperation deal signed by Washington and Bogota in October.

"All our exports to Venezuela will increase in price overnight," said Camilo Perez, Chief Economist at Banco de Bogota in Colombia. "This will be true of all countries that export to Venezuela, but Venezuela is Colombia's second biggest trade partner, so the impact will be much more significant here."
Keep up with the latest business news from the region with the Emirates Business 24|7 daily newsletter. To subscribe to the newsletter, please click here.
Follow Emirates 24|7 on Google News.