Western Union full-year profit up 7% to $919m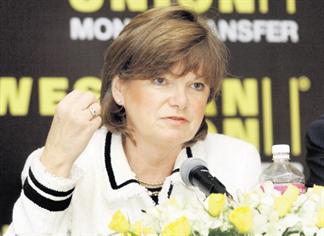 The Western Union Company, a leading money transfer firm, yesterday said it posted net income of $919 million (Dh3.37bn) in 2008, an increase of seven per cent.

Its fourth quarter net income dropped two per cent to $240m. It recorded global consolidated revenue of $5.3bn, an increase of eight per cent.

Western Union President and Chief Executive Officer, Christina Gold, said: "In 2008, we gained market share and handled $67bn of cross-border remitted principal, 17 per cent more than last year. This was a key driver of our financial performance, which included earnings per share and cash flow in line with our guidance. Our revenue performance in the fourth quarter, however, was adversely affected by softening demand for money transfers and bill payments in light of the deteriorating global economy."

He said: "In 2009, we are confident in our market position. We had more than $1bn in cash on hand at year-end and expect to generate cash flow from operations in excess of $1.1bn in 2009. We will ensure that we maintain liquidity, while using this cash to invest in market share initiatives, strategic acquisitions and to return capital to shareholders. I am confident that we will emerge from these unprecedented times with an even stronger competitive position that will result in creating value for shareholders over the long run," Gold added.

The Europe, Middle East, Africa and South Asia (EMEASA) region, which represents 44 per cent of Western Union revenue, experienced fourth quarter revenue growth of one per cent on transaction growth of 16 per cent. Full-year revenue and transactions grew 16 and 23 per cent, respectively.

Within EMEASA, the performance of Gulf states was strong despite falling oil prices. India's performance contributed to the region's results with revenue growth of 29 per cent and transaction growth of 50 per cent in the fourth quarter.
Follow Emirates 24|7 on Google News.