Where variety is the spice of life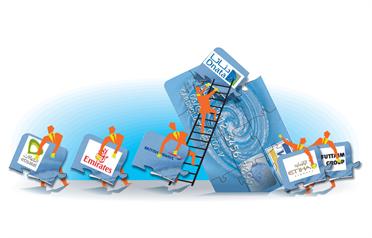 If, as the hackneyed old cliché goes, variety is the spice of life, then last weekend's editions of Emirates Business were a really good curry.

The clicking habits of our online readers covered the broad spectrum of topics – from personal finance to environmental issues – published in Friday's and Saturday's papers.

As the top five (column left) illustrates, arriving in first place in the rankings was a story by Safura Rahimi about the trend of credit card pro-viders to tie up with well-known brands to offer incentives for customers to swipe their plastic more often.

The feature, published over two pages in the money section of Saturday's paper, told how and why so-called co-branded cards offer everything from Air Miles to discounts at top restaurants.

The print edition of the story also included a table of what the companies offer, what the annual memberships were, and what were the interest rates.

William Keliehor, Credit Card Head at Citibank for the Middle East, Africa and Pakistan, said: "What most people find is that they want some sort of additional reward or gratification, so when they make a choice of how they're going to spend, co-branded cards seem to be the preferred method."

Jumping second place in our ranking for a moment, the story that was third most popular – and the cover story in Friday's print edition – was a feature by reporter Ryan Harrison on what sectors are best places to weather the financial storm.

Specific areas, such as healthcare, education and fast-moving consumer goods such as food, are obviously seen as necessities and therefore fairly recession-proof.

However, the story also looked at the less obvious – IT security, for instance, which, even in difficult market conditions is seen as business-critical for many, if not all, companies.

Of all the sectors – and leaving company administrators such as PricewaterhouseCoopers out of the mix – it seems that the "humble" fast-food chain and the relatively cheap entertainment of the cinema are best places to strengthen their position during the financial crisis.

Cinemas in the US reported their first $1 billion (Dh3.67bn) month as attendance by cash-strapped soared.

And the ubiquitous McDonald's recently posted solid growth in the Gulf. "Our model remains recession-resistant," said the big giant's CEO, Jim Skinner after announcing the company's 2008 results. "Today's conditions play to our strengths."

Despite posting a 23 per cent drop in Q4 income, due to unfavourable foreign exchange rates, McDonald's said same-store sales were up 7.2 per cent and earnings were up 80 per cent to $4.31bn.

Jonathan De Mello, Director of Retail Consultancy at Experian, told our reporter: "Fast-food companies are doing well. Previously people were trading up and opting for healthier, better quality and more expensive menus. They now have less time to sit for lunch at restaurants and are opting for something quick and cheap.

"Discount supermarkets are doing well. In a time of economic downturn, people tend to focus on cheaper, convenience items such as bread and milk and keep away from discretionary goods such as luxury items and clothes.

"Retailers that are doing well, are the ones that are offering reasonable fashion lines on a budget."

And in second place in our ranking was an exclusive story from Sean Davidson about the requirement by individual developers of Nakheel's The World archipelago to meet benchmark regulations on social and environmental risk if they wanted to qualify for project funding.

Emirates Business reported last month that nearly 60 per cent of The World's islands are to be reshaped or merged.

Brendan Jack, Head of Sustainability and Environment for The World, said: "Due diligence requirements developers will need to demonstrate include the identification of both environmental and social impacts, measures to eliminate or manage the negative impacts and framework management plans to describe how these measures will be implemented."

Developers must provide environmental baseline studies (EBS) that benchmark conditions before they commence their activities. The studies must be more detailed if an island is to be reshaped.

Developers must also conduct hydrological studies to demonstrate that a revised shape of an island will be stable – for example, that the beach sand will not move too much – and that it will not affect the stability of neighbouring islands.

Good news for environmentalists, we think.
Follow Emirates 24|7 on Google News.