Wildcat strikes backlash against 'British jobs' pledge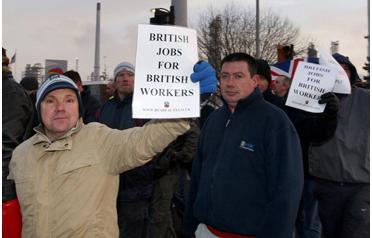 Brown was being made to pay the price for his October 2007 speech, dailies said, after Friday's strikes at Britain's third-largest oil refinery over the use of European workers spread to other energy facilities.
"Backlash", said the front-page headline on The Independent, with a picture of a striking worker holding up Brown's words.
The Sun, recession-hit Britain's biggest-selling daily, said it was "another ill-judged boast that has come back to bite the PM.
"But wildcat strikes are wrong and will achieve nothing. The world is different from the strike-plagued 1970s. And we cannot turn the clock back.
"Our pubs, shops, restaurants, schools, factories... all rely heavily on foreign workers.
"But Mr Brown certainly has fences to build with workers who feel he has let them down."
The Guardian said Brown's pledge was "a cynical piece of rhetoric... he knew perfectly well that Britain had no power to keep Europeans out. He said it anyway because he wanted to tell the electorate what they wanted to hear.
"The prime minister's exploitation of that sentiment was objectionable, but the popular yearning to feel protected is of course understandable."
The striking workers' demands "echo a worrying global trend to economic nationalism," said The Times.
"British workers who are unable to find jobs in a severe downturn have understandable reason for frustration.
"Unfortunately, the protests against foreign labour are part of a populist impulse that often asserts itself in economic downturns.
"Erecting barriers to imports and to labour is a tempting route, and a disastrous one."
Brown's lack of regret for his British jobs for British workers pledge "is either disingenuous or obtuse, and is in either case discreditable", it added.
Citing House of Commons library figures, the Daily Mail said the number of foreign-born workers in Britain rose by 175,000 to 3,723,000 between September 2007 and September 2008, while the number of British-born workers had dropped by 46,000 to 25,735,000 in the same period.
"These are shocking figures," the mid-market tabloid said.
"We can no longer afford the luxury of the industrialised world's most liberal immigration policy. This madness must stop."
The lowbrow Daily Star tabloid said Britons were "sick to the back teeth" of losing jobs to foreigners and "dithering" Brown had "finally been exposed as the liar he is".
"Hordes of foreigners are being given plum roles while thousands of homegrown workers queue at the dole office. This cannot be allowed to go on."
The Daily Mirror tabloid said the wildcat walk-outs were about fairness.
"To bar the local workforce from competing for jobs is unfair. To undercut wages and conditions is unfair. To exploit foreign workers, as the unions allege, is unfair.
"The big energy companies must insist on fairness from their contractors because it's wrong, wrong, wrong to discriminate against local workers."
The Daily Telegraph said the strikes were a sign of things to come.
"Labour's reaction has been instructive," the conservative broadsheet said.
"During the boom years, the government extolled the virtues of globalisation for attracting foreign workers to these shores.
"Yet, at the first sign yesterday of unrest over this approach, ministers have run a mile."
Follow Emirates 24|7 on Google News.
Prime Minister Gordon Brown's "British jobs for British workers" pledge had come back to haunt him, newspapers said on Saturday of the wildcat strikes hitting oil refineries.