Worst is over for GCC banks and economies, says report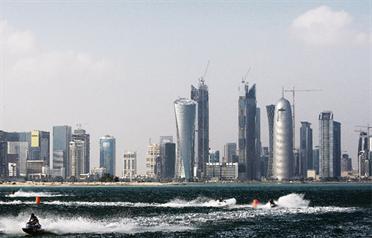 Gulf oil producers appear to have pushed their way out of the global financial crisis and are treading firmly into a healthy year for their economies and banking sector, a Kuwait investment bank said yesterday.
The economies of all members of the Gulf Cooperation Council (GCC) are projected to record positive growth in 2010 while their banks will perform better this year than in the previous turbulent 15 months that followed the crisis and the collapse in oil prices, Global Investment House (GIH) said in a 100-page study.
Qatar is again expected to be the star economic performer this year given its immense gas exports while its banks and those in the UAE could outpace banks in the other GCC countries, GIH said in the study sent to Emirates Business. "The GCC banking sector has witnessed turbulent times in the last five quarters starting with the impact of the global crisis, followed by the implications of the default by Saudi conglomerates Sa'ad and Algosaibi somewhere in mid-2009," it said.
"Starting 2010, the major question that lingers in the minds of investors is whether the worst is over? We believe that the GCC banks collectively have already seen the worst and 2010 will be a year of asset and profit consolidation before the banks embark on a steeper profitability trajectory in the years ahead."
The report said the economies of the GCC countries, which sit atop nearly 45 per cent of the world's extractable crude deposits, are also expected to resume healthy growth in 2010 given steady and high oil and gas prices.
It noted that the GCC countries had managed to accumulate massive financial surpluses over the past few years due to the surge in oil prices, which enabled them to "employ powerful counter-cyclical fiscal policies. With crude prices stabilising at around $70-80 a barrel, the outlook of those countries seem bright as some are expecting to post a surplus. Confidence in the GCC credit markets has also significantly improved over recent months and the doom and gloom scenarios have been priced out."
GIH said it expected massive infrastructure spending in the region to underpin fast recovery in the economy for countries like Saudi Arabia, the UAE and Qatar which have both the ability to spend and the willingness to do so as well.
"The banking sector which is closely related to the economy is therefore expected to benefit in full from any such recovery, more so in countries which have implemented aggressive fiscal policies."
After an expected decline of around seven per cent in their net profits, GCC banks are projected to show a healthy 15 per cent growth in 2010 earnings. "We believe that earnings growth will pick up pace further down the road managing a 2009–2012 CAGR of 20 per cent," said GIH.
Its forecasts showed the net interest income of GCC banks is anticipated to grow by around seven per cent in 2010 over the previous year.
The report noted that provisioning expenses of GCC banks jumped by nearly 64 per cent in 2009, underpinning the forecast decline in profits in 2009.
"Going into 2010, GCC banks are still to feel the spillage of credit deterioration, though to a lesser extent than that seen in 2009, with collective provisioning requirements estimated to decline by 16 per cent," the study said.
"The provisioning charge [provision expense as a ratio of total income] is therefore expected to subside to 18 per cent in 2010 and to 10 per cent in 2012 after making a high of 23 per cent in 2009. As per our calculations, the NPLs ratio of GCC banks will stand at 3.1 per cent in 2009 and increase by 31bps in 2010 before sliding down by an average of 20bps till 2012."
The study said banks in Qatar and the UAE had an edge over those in other member states, with Qatari banks enjoying what it described as a slightly better asset quality and very proactive government attitude.
"Interestingly, we believe that UAE banks enjoy the same stance as Qatari banks, despite the fact that they suffer from high exposure to defaulting conglomerates, high retail default and bottoming real estate prices. This is because these negatives are offset by good and steady spreads, healthy top-line and bottom-line growth expectations and due to the simple fact that UAE banks in general and Abu Dhabi banks in particular enjoy government patronage"
Turning to the economy, GIH expected all GCC members to record positive real GDP growth this year on the basis of strong oil prices, high public spending and the execution of massive projects in the region.
It forecast growth at around 2.4 per cent in the UAE, 3.8 per cent in Oman, 3.7 per cent in Bahrain, 3.3 per cent in Bahrain, and three per cent in Saudi Arabia. Qatar's economy is projected to surge by 18.5 per cent as the world's third largest gas power is pushing ahead with huge LNG ventures.
"In the UAE, real GDP is expected to have fallen in 2009 by just 0.2 per cent because of lower oil prices, real estate downturn and crude output cut," it said.
In Saudi Arabia, higher oil prices and a forecast budget surplus of SR107.7 billion (Dh105,4bn) would boost development projects and spur growth, the report said.
It estimated the overall projects in Saudi Arabia at around $615.3bn as of December 2009, of which merely 8.5 per cent are on hold. With the projected pick up in the Kingdom's economy, the number of projects on hold is expected to drop to a half and ultimately result in better performance of petrochemical, banking and manufacturing sector, said GIH.
As for Kuwait, the study estimated its economy to have shrunk by around 1.5 per cent in 2009 and referred to the recent government approval of a massive development plan involving the spending of nearly $125bn during 2013-2014.
"It is the first plan since 1986. This is a move that almost everybody was calling for to revive the Kuwaiti economy facing recessionary pressures since September 2008. The plan aims to turn Kuwait into a regional trade and financial hub through sustaining development, economic diversification and GDP growth. However, actual implementation of this plan is vital. Nevertheless we expect Kuwait to post real GDP growth for 2010-2011 at 3.3 per cent due to sustaining oil prices and revival of confidence in real estate and construction market."
The report estimated development projects in Qatar at nearly $230.2bn of which only around 3.4 per cent are on hold.
"The continuous flow of gas based surplus guarded its economy against external effects. Qatar is estimated to post highest GDP growth among the GCC countries at 11.5 per cent during 2009 and as high as18.5 per cent in 2010." In Oman, the economy grew by about 7.8 per cent in 2008 and is estimated to have expanded by nearly 4.1 per cent in 2009. "Amassed with large oil wealth translating into record current account and fiscal surpluses, Oman's government in 2008 announced mega infrastructure projects totalling $48bn over the next five years with a clear focus to diversify the economy away from hydrocarbon sectors," said GIH.
"Total projects in the country are estimated at around $104bn, of which only $6.5bn or 6.2 per cent are on hold. The banking and construction sector are likely to be a major beneficiary of these investments by way of their direct and indirect participation in these investment projects." 
Forecast for real estate sector 
The GCC real estate sector was one of the sectors that were hit the most by the global financial crisis.
Recently, the markets were given a breather after steep corrections in prices and rents as some segments of the markets witnessed signs of stabilisation, and some even started an upward trend.
However, it is too early to acknowledge that the GCC markets are on the path of sustainable recovery. Still, many challenges have to be addressed before restoring full confidence into the market mainly oversupply challenges, and financing challenges. Also, the trends will vary across countries of the GCC and different segments of the same country.
In the UAE, Dubai started to show modest signs of recovery in certain segments during the second half of 2009. However, we do not expect the UAE market to recover in the near term given the new supply entering the market. We do not expect prices to bottom out before the second quarter of 2010.
In Saudi Arabia, the market is still awaiting the passing of the new mortgage law that was announced in 2009, which will help establish the overall regulatory framework for the mortgage financing in the kingdom. The new law is expected to create secure mortgage business for Saudi banks, boost investors' confidence and stimulate demand for the Kingdom's property market.
In Kuwait, the residential segment is expected to pick up as it continues to witness supply shortages. The latest amendments regarding laws 8 & 9 and allowing construction in new areas should increase activity in the market. Moreover, extended credit for the segment is expected to pick up in the medium term.
Qatar's real estate market is expected to stabilise after a declining trend. It is seen as one of the most robust markets supported by the country's economic growth and diversification plans.
In Bahrain, we do not foresee any stabilisation in the market in the near future except for the retail segment, and housing for the middle income segment. The oversupply of freehold properties targeting the high end segment is expected to put a downward pressure on prices in that segment.
In Oman, the crisis had little effect on residential prices and rents which are now stabilising. We expect a flattening of demand in 2010.
Keep up with the latest business news from the region with the Emirates Business 24|7 daily newsletter. To subscribe to the newsletter, please click here.
Follow Emirates 24|7 on Google News.