Atta-Mills strengthens lead in final Ghana poll count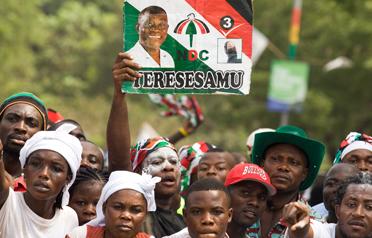 John Atta-Mills' bid to become the next leader of Ghana strengthened on Saturday after provisional results put him well ahead of his rival in the last constituency to vote in a presidential run-off election.
In a declaration to local news media, a returning officer in the farming district of Tain said Atta-Mills, 64, had garnered 19,566 ballots in Friday's voting there – well ahead of Nana Akufo-Addo with 2,053 ballots.
Akufo-Addo, also 64, had won an inconclusive first round of nation-wide voting on December 7, and his governing New Patriotic Party (NPP) had called on supporters to boycott the voting in Tain.
Electoral commission chief Kwado Afari-Gyan was to due to announce the winner of the race of succeed President John Kufuor – who is stepping down after serving a maximum two terms – at 11.00am on Saturday.
In prior voting in Ghana's 229 other constituencies, Mills – representing the opposition National Democratic Congress – led Akfuo-Addo by around 23,000 votes.
Stakes have been high in the race to choose the man who will be governing Ghana – known as the Gold Coast before independence from Britain in 1957 – when it starts pumping oil in 2010.
The election is the fifth in Ghana – whose best-known citizen internationally is Kofi Annan, the former UN secretary-general – since the return to multi-party democracy in 1992.
Both parties have alleged voting irregularities in each other's strongholds.
Follow Emirates 24|7 on Google News.