Congo warlord to stand trial in child soldier case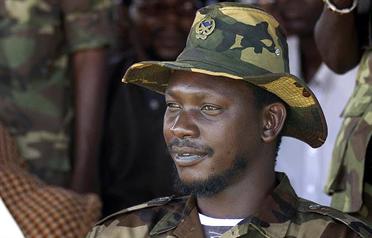 A Congolese militia leader accused of using child soldiers to kill members of an ethnic minority goes on trial Monday at the first ever warcrimes trial at the International Criminal Court.
Thomas Lubanga, founder and leader of the Union of Congolese Patriots (UPC) in Congo's eastern Ituri district, denies he enlisted and conscripted children under 15 to kill ethnic Lendus in a 1998-2003 war in the Democratic Republic of Congo.
ICC prosecutors allege that child soldiers recruited by the UPC were involved in hostilities between October 2002 and June 2003 and that some of them were forced to kill and that others lost their lives in combat. Lubanga is also alleged to have used child soldiers as bodyguards.
More than 30,000 children were recruited during the DRC conflict, according to Bukeni Waruzi, the Africa and Middle East coordinator for human rights group Witness. 
The three-judge court is expected to give Lubanga, 48, the chance to re-enter a plea when the case gets under way in the world's first permanent war crimes tribunal.
Lubanga's trial had been due to start in June 2008 but judges suspended it on concerns that Lubanga might be denied a fair trial because the defence was unable to view some evidence against him.
The matter was resolved in November when prosecutors began releasing documents to the defence that had been provided on condition of confidentiality to protect sources in war zones.
Judges have allowed 93 victims to take part in the case and give evidence, and be represented by eight legal representatives. 
Four of the victims are among the 34 witnesses that chief prosecutor Luis Moreno-Ocampo will call during the trial, which is expected to be completed before the end of the year.
It is not known how many witnesses the defence will call.
Ethnic violence in the Ituri region between the Hema and Lendu, and clashes between militia groups vying for control of mines and taxation, have killed 60,000 people since 1999. 
Lubanga was handed over to the court in 2006 after the DRC referred the case to the ICC prosecutor in March 2004. 
The ICC is investigating cases in Congo, the Central African Republic, Sudan's western Darfur region and Uganda. Four suspects have been arrested. 
The court has the backing of 108 nations, but experts say it still faces many challenges, including winning endorsement from powers such as the United States and China, and scrutiny over its effectiveness. 
Follow Emirates 24|7 on Google News.