Japan readies to join Somalia anti-piracy patrols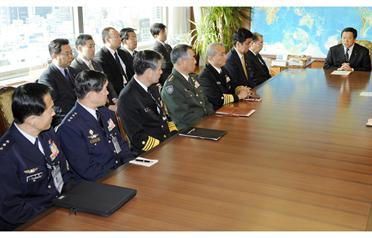 Japan ordered its navy on Wednedsday to prepare for deployment off Somalia after months of agonising about how to join international anti-piracy patrols there without breaching its pacifist constitution.
Defence Minister Yasukazu Hamada's order follows China's dispatch of warships to the region last month, joining a growing flotilla of at least 14 ships from the United States, India, Russia, the European Union and others aimed at curbing piracy.
"The pirates in the Gulf of Aden off Somalia's shores are a threat to the international community including Japan, and is an issue we must deal with urgently," Hamada told top defence officials.
Deciding on a naval dispatch has been a headache for Japan, whose military activities overseas are tightly restricted by its post-World War Two pacifist constitution.
Tokyo plans first to send ships under an existing marine security law, which only permits the navy to protect Japanese ships, or those carrying Japanese crew or cargo. Kyodo news agency said ships could depart as early as March.
To dodge possible criticism from other countries whose ships are patrolling the area, the government is also considering a new law to enable it to protect non-Japanese vessels and broaden the scope for using weapons beyond self-defence.
"The defence ministry believes it is necessary for work on the new law to be speeded up and we will put our efforts into that," Hamada said.
How quickly a new law could be passed, however, is in doubt as opposition parties control parliament's upper house, where they can delay bills.
The main opposition Democratic Party has said in principle it would back a bill to broaden Japan's contribution, but smaller leftist parties are opposed.
Follow Emirates 24|7 on Google News.