Kenya looks to cash in on Obama pilgrims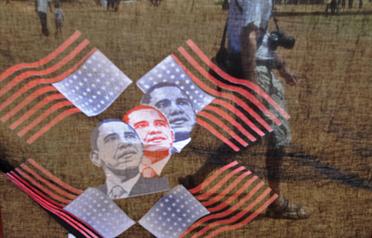 Forget the Maasai Mara reserve and the "big five", snow-capped Mount Kenya and palm-lined Indian Ocean beaches. The hippest tourist spot in Kenya these days is "Obamaland".
Nestled in the hills tumbling down to Lake Victoria, the modest village where the new US president's father was born, is not your typical destination for a holidaymaker's once-in-a-lifetime African safari.
But a steady flow of tourists -- from US Obama afficionados on pilgrimage to their hero's ancestral land to Kenyans brimming with pride for the home boy -- have gone out of their way to visit Kogelo in recent months.
And after a slow start, a cohort of local entrepreneurs, tour operators and tourism officials are making plans to cash in on "Obamamania" and turn Kogelo into a key new attraction.
With his flowery shirt, shorts, sandals and pocket camera, Los Angeles resident Brian Coulson has become a familiar sight in Kogelo but he looks a little lost exploring Senator Obama secondary school by himself during class.
"I couldn't find much about Kogelo before actually travelling," said Coulson, who spent half a day on a bus from Nairobi and needed a taxi from Kisumu, the nearest major city, to get here.
The enterprising tourist didn't find much on the other end either: "I expected curio shops, with Obama's face printed on cloth or something, maybe an Obama restaurant."
Despite the lack of tourist infrastructure, Brian Coulson argued the trip was worthwhile, even if he could not make it past the policemen guarding the homestead of Obama's 86-year-old grandmother, "Mama Sarah".
"After all the stuff that was said about Obama and his background, I had a look and saw for myself... I think I probably have a better idea of who my next president is," he said.
"I would recommend people if they were coming here (to Kenya) on a safari... Why not? If you're a fan and you're in the country anyway, I think it would make sense to make a stop here," he added.
Residents say an average of 300 tourists visit the village every day and numbers are expected to swell when the high season kicks off in the spring.
Travel agents in the United States and elsewhere have started actively marketing Kogelo and are including it in holiday packages.
Shortly after Obama's poll triumph, New York-based 2Afrika Inc started advertising its "President Heritage Safari", an 11-day package in Kenya fetching 2,999 dollars.
The trip includes a stay at the foot of Mount Kenya, the flamingos of Lake Nakuru, the big cats of Maasai Mara and winds up with two days in Kogelo and other locations in the land of Obama's Luo tribe.
Kenya however appears to have been less swift in realising the extent of the interest for a region which has always stayed on the margins of the country's tourism industry.
"It's very clear that the locals are losing out, they have not realised the potential. You don't see a single curio shop, there isn't even anything called a hotel or a driver guide," said Joseph Oluoko, Kogelo's first tour operator.
"If you come here, you have to carry your packed lunch. There is no cold soda. I think maybe the first fridge in the village arrived a few days ago," said Oluoko, a young man with six years' experience in the industry.
"Are we ready for what's coming? The short answer is no," he said.
But the sense of opportunity arising from the global Obama craze in this impoverished rural area of Kenya is beginning to inspire local entrepreneurs and Joseph is leading the pack.
A native of the region who used to put up tourists in tents on his parents' compound for the lack of better accommodation, the 30-year-old has found land and a partner to build an eco-lodge a few minutes away from Sarah Obama's home.
"I am also developing some excursions. One of them, the shortest, is a sort of re-enactment of Obama's 2006 visit here. If you were in Jerusalem, you would want to step where Jesus stepped, right?"
Kogelo -- with its few hundred inhabitants and sleepy market place -- could turn out to be the unlikely saviour of Kenyan tourism, still licking its wounds from the post-election violence that scuppered the sector's growth in 2008.
"The Kenya Tourist Board, together with the tourism ministry and the entire government, are working on a programme on how to leverage, how to take advantage of this Obama factor," KTB official Ongong'a Achieng told AFP.
But tourism stakeholders are aware that interest for the grandmother's somewhat unspectacular home could dry out and plans are afoot to exploit the entire region's dormant potential.
A project has been submitted for an Obama museum and while the region's wildlife isn't as diverse as in other parts of the country, tour operators are seeking to develop bird-watching tours and excursions on Lake Victoria.
"Obama single-handedly put Kogelo on the world map, but while it may take just one person to open up a destination but it needs a collective effort to maintain it," Joseph Oluoko said.
"It's up to Kenyans to maintain the pace and ensure that even in 30 years, our children can still reap some cash from the name Obama."
Follow Emirates 24|7 on Google News.